Iron & Lace Calendar News January - February 2013
...and check out Last Month's Iron & Lace News HERE
This Month in the Iron & Lace Calendar ...
Calendar Kitten and 2013 Iron & Lace Calendar cover model Camilla Chiniquy takes us for a ride on 'Asumati" a Honda VT750 cutom built by Jim Giuffra and the Spokesmodels at AFT Customs . FastDates.com Calendars are highest quality full color 15 x 15" wire spiral bound printed on heavy art stock revealing 16 months beginning with September. $16.95 each - Click on the Calendar Picture Above or Here to Order Now
You'll find many of Calendar Bikes featured in the Calendar Bike Garage and a lot more pictures of all our beautiful Calendar Kittens in Members Corner. Past Editon Calendars are still available in Collector's Corner. Photo by Jim Gianatsis.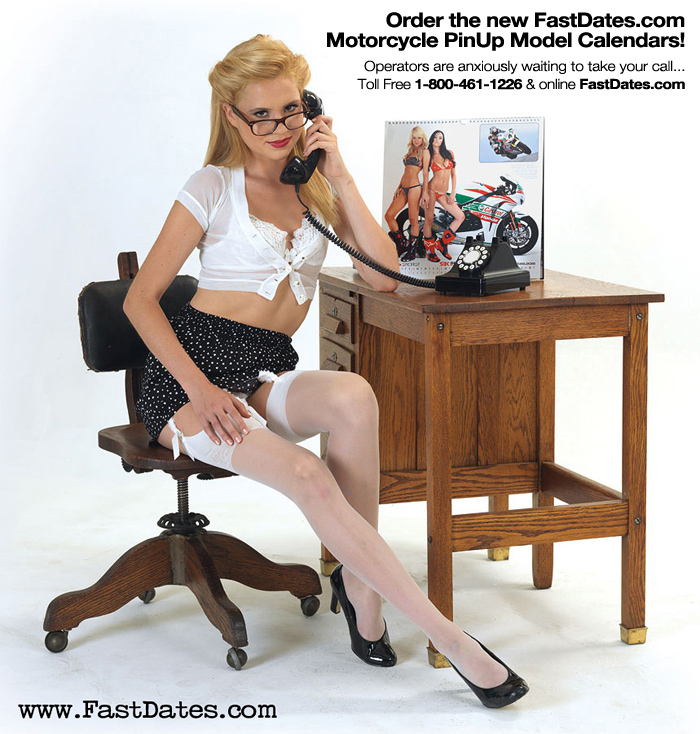 Meet FastDates.com Webite cover model Halle who wants to remind you it time to order your new 2013 Calendars.
Weekdays 8am - 5pm Pacific Cost Time phone Van Leeuwen Distributing at 1-800-461-1226 or ORDER ONLINE HERE.
---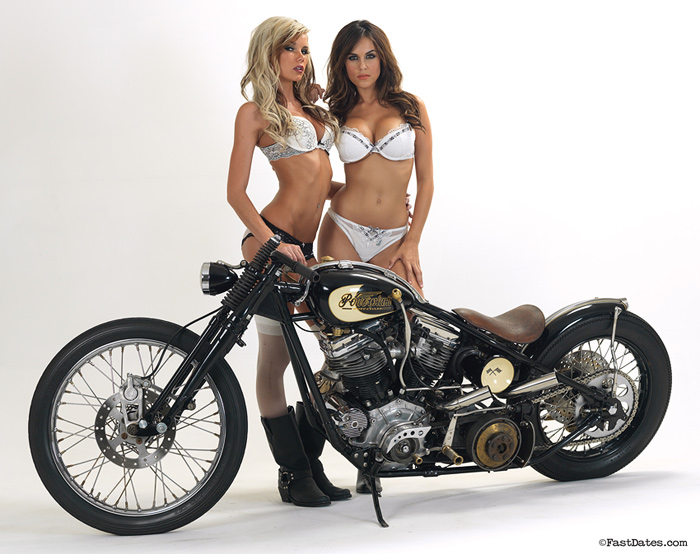 See more of Yaniv Evans' awesome bikes like this "Black & White" in the Calendar Bike Garage
Show Stoppers - Yaniv Evan, Kinsey and Sabella
In the Pro Builder Class at he 2012 LA Calendar Motorcycle Show it was Yaniv Evan / Power Plant Choppers who took home top honors with his classically styled bare metal custom Black & Metal" based on a 1970 Harley-Davidson Shovelhead. "I wanted to build something in between a 'Rudge Superior' from the 1930's meets 1960's chopper, with a bit more power and good handlebar feel." Evan's shop PowerPlant Choppers.com is located on Melrose Avenue in Hollywood where he also sells cool PowerPlant apparel to visiting tourists and locals. Yaniv also displayed this awesome retro Springer Panhead below, which we also photographed the day after the Show with Calendar Kitttens Kinsey and sabella for the next 2014 Ion & Lace Calendar. See more of Black & Metal in the Calendar Bike Garage


LA Calendar Bike Show winners Yaniv Evans/Powerplant Choppers and Jim Giuffra/AFT Customs
are featured in this nice video about custom bike building.
More 2012 LA Calendar Motorcycle Show coverage HERE
---
---
Singer and Model Lana Del Ray's sexy new
Biker Video and Song "Ride"
Portrays her working as a prostitute and hanging out with a biker gang.

Elizabeth Woolridge Grant (born June 21, 1986), better known by her stage name Lana Del Rey, is an American singer-songwriter. Del Rey initially began performing in clubs in New York City at age 18 and signed her first recording contract when she was 20 years old. Her music has been noted for its cinematic sound and its references to various aspects of pop culture, particularly that of the 1950s and '60s Americana. The singer has described herself as a "self-styled gangsta Nancy Sinatra."

Musically, she draws influence from what she deems to be the masters of each genre, including Elvis, Janis Joplin, Eminem, and Britney Spears, as well as from poetry and film noir. Del Rey has endorsed clothing line H&M, serving as the model for their Fall and Winter 2012 collection. In 2012, Del Rey became the face of the Jaguar F-Type luxury automobile.
---
LA Calendar Show Winner & Calendar Bike AFT featured in new iKustom TV Series
Watch the build of AFT Metric Custom's LA Calendar Bike Show winner and Calendar Bike "Kimosabe" and join the AFT Spokesmodels
as they take it to Bonneville to race on the Salt Flats. This video is One of Twelve iKustoms show Bike Builder TV Series
Jan. 7, 2013, Los Angeles – RogueFlix, the new young-male driven Action Lifestyle Network will release the iKuztom TV series on January 7, 2013 featuring the world of custom motorcycles written, directed, and produced by award winning producer, Erik Lundmark and his partner Timothy G. Ledford, an innovator in the custom motorcycle industry.
"CINE Golden Eagle Award Winner, iKuztom takes you up close and personal through smoke, fire, and steel as elite custom motorcycle artisans ply their trade behind the scenes to design and create one-of-a-kind bikes for the ultimate discerning bike enthusiasts," stated Erik Lundmark, CEO of Leomark Studios which created the series together with Grip Ace Industries. "The 13 half-hour episodes also feature a bevy of bikini models and comedy sketches, in a fun, fast paced thrill ride."
"We are very excited about teaming up with Erik and his team at Leomark Studios to bring our RogueFlix audience a truly amazing motorcycle TV series," stated Bryan Duran, co-founder, CEO and General Counsel of RogueFlix. "I was very impressed with the quality of the award winning iKuztom TV series and I knew right away that I wanted it on RogueFlix. Erik and I met poolside at the Loews Hotel during the American Film Market and quickly realized we wanted to work together and are collaborating on more productions."
You can view the entire 12 episode Kustom TV Series Online at http://www.rogueflix.com/iKuztom
This Month in the Iron & Lace Calendar ...
An Iron & Lace Classic! We couldn't help sharing with you one of our most favorite Calendar shoots ever, and this particualr 1993 cover shot which was replaced by a simialr, but different shot insode the Calendar. Playboy Playmate Playmate Rebekka Armstong strips down in the Los Angeles River with an Evo custom from Bartel's Harley-Davidson in this photo shoot by Jim Ginatsis for the first 1993 Iron & Lace Calendar 21 years ago!

See more of our beautiful models and Calendar bikes in the Calendar Bike Garage and in Members Corner.
FastDates.com Calendars are highest quality full color 15 x 15" wire spiral bound printed on heavy art stock revealing 16 months beginning with September. $16.95 each - Click on the Calendar Picture Above or Here to Order Now
Past Editon Calendars are still available in Collector's Corner. Photo by Jim Gianatsis.
Below, Rebecca in her Playboy Centerfold shoot.
---
There's more! Go to Iron & Lace News Previous Page
Return to Iron & Lace Calendar News Front Page

Also Visit:
Fast Dates Calendar News • Pit Lane News • Calendar Girl News • Meet the Models
See much more of our all our beautiful calendar girls
in their sexy pictorials in FastDates.com Members Corner...





MotorcycleSuperstore.com