This Month in the Iron & Lace Calendar ...
Calendar Kittens Petra and Jitka with Chris Carlson's rare 1934 Husqvarna Ise of man TT road racer.
FastDates.com Calendars are highest quality full color 15 x 15" wire spiral bound printed on heavy art stock
revealing 16 months beginning with September.
Click on the Calendar Picture Above or Here to Order
You can see more of this Bike and our other Calendar Bikes with the beautiful Calendar Kittens
with BIG screensaver size pictures featured in the Calendar Bike Garage.
And see more of our beautiful Calendar Kittens in more revealing photos in Members Corner.
Both are available with your Members Corner Membership.
Iron & Lace Calendar News May - June 2016
And check out Last Month's Iron & Lace News...
MORE NEWS HERE

World Premier of the New 2016 Iron & Lace Custom Bike Calendar!
Iron & Lace features a 16-month look at the world's top custom motorcycles photographed by legendary photographer Jim Gianatsis featuring the LA Calendar Motorcycle Show's Calendar Bike Championship winners: Ron Boldonado's Saturday Nite Special H-D Flathead cover bike, Imagine Vehicles International Honda CBR1100, Jim Giuffra AFT Customs Honda CB750, Richard Pollock Sportster 1200XR and Samuel Kao's Sportster Cafe Racer. Plus an Adam Bean Bar Hopper, Ron Simms' Retro Chopper and Modern Bagger, Russell Mitchell / Exile Cycles Trike, and Chris Carlson's 1934 Husqvarna V-twin factory ­TT racer.
The beautiful Calendar Kittens include Czech supermodels Petra and Jitka, plus Desiree Manly, Lindsay Hancock and Playboy's sexy Girls of the Pac10 Unoversities' Jacqueline Pabst in revealing lingerie! Here's your chance to see why custom iron and beautiful girls in sexy lingerie go so well together in Iron & Lace! The Calendar couldn't get any steamier without an "X" rating - You'll have to visit our Member's Corner for that!

This is your exclusive 16-month pit pass to the world's top custom bmotorcycles and beautiful centerfolds in
revealisng lingerie. Calendars are highest quality full color 15 x 15" wire spiral bound printed on heavy art stock
revealing 16 months beginning with September. $19.95 each - Click on the Calendar Covers below to Order Now
You'll also find our Calendar Kittens and Motorcycles in revealing pictorials in MEMBERS CORNER

Click on the Covers Below to Order the Current Calendars
Also Order Current & Past Edition Calendars in Collectors Corner
NOTICE CUSTOMERS - We are having a problem with Amazon.com right now, not wanting to stock our Calendars in Bulk,
and they are showing them as not in stock. If you see this on the Amazoncom Order Link please use the PayPal Buttons
on the Main Calendar's Sales Page to order the Calendar direct from FastDates.com,
or by check through the US Mail. Or from out other distributors listed there. Sorry for the Inconvience.

Click to Order Online

2017 Iron Lace
Centerfold Models and Custom Bikes
15-inch Spiral Bound
ISBN 1578651921


Click to Order Online

2016 Iron Lace
Centerfold Models and Custom Bikes
15-inch Spiral Bound
ISBN 1578651824


Click on Cover to Order Now

2017 Fast Dates
SBK Racebike Pinup Calendar
SBK World Superbike & Cafe Bikes w/Models
ISBN 1578651913


Click on Cover to Order Now

2016 Fast Dates
SBK Racebike Pinup Calendar
SBK World Superbike & Cafe Bikes w/Models
ISBN 1578651816


Click to Order Now

2017 Garage Girls
The FastDates.com Calendar Kittens playing
dirty without the bikes getting in the way!
ISBN 1578651931


Click to Order Now

2016 Garage Girls
The FastDates.com Calendar Kittens playing
dirty without the bikes getting in the way!
ISBN 1578651832
---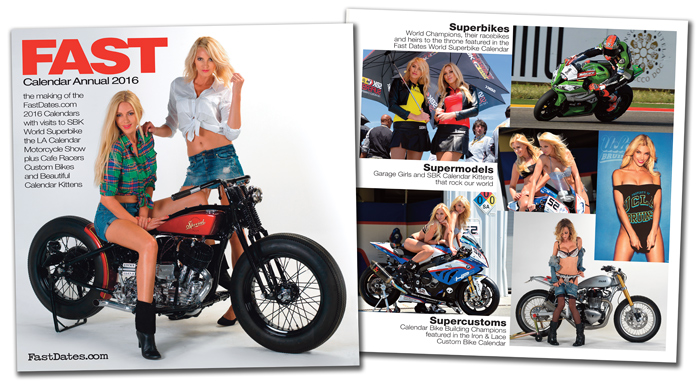 NEW! FAST 2016, 2015, 2014 Calendar Digital Yearbooks
Go behind the scenes of the FastDates.com Calendar photo shoots at the SBK World Superbike races, the Los Angeles Calendar Motorcycle Show & Concourse d' Elegance, and inside the FastDates.com Studio of famed photographer Jim Gianatsis. Meet the official SBK World Superbike Calendar Kittens who also serve as the official SBK podium and grid girls, the top factory riders of World Superbike, and America's top custom bike builders. You'll find detailed editorial photo features on the Calendars' top Custom and Race bikes, and on the Calendar Kittens.
Did we forget anything? - Oh yes! The new FAST 2015 Calendar Yearbook Digital Edition features in high resolution every page in the new 2015 Fast Dates World Superbike, Iron & Lace Custom Bikes, Garage Girls and Cafe Racers Calendars featuring the world's top race and custom bikes and the beautiful Calendar Kittens! Now in Members Corner
---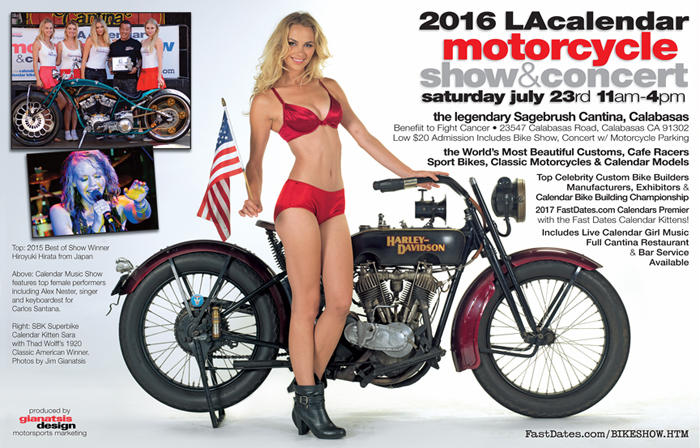 2016 LA Calendar Motorcycle Show July 23rd
For Immediate Release, November 1, 2055 - The 2016 LA Calendar Motorcycle Show returns to the legendary Sagebrush Cantina on Saturday July 23rd 2016. Want to have your custombike featuredon the FastDates.com website and the next Iron & Lace Calendar for fame a recognition, then bring it to the Show and enter it in the Calendar Bike Building Championship. Click above for complete details.
| | |
| --- | --- |
| | |
Meet beautiful Alissa Bourne & Blake Eden,
our newest SBK Fast Dates Calendar Kittens for Laguna Seca World Superbike and the LA Calendar Motoryce Show this July 2016

May 1st 2016 - Beautiful New York based model Alissa Bourne and Los Angeles based Blake Eden have been selected as the newest FastDates.com Calendar Kittens by Calendar producer and photographer Jim Gianatsis to shoot the next 2018 edition FastDates.com Calendars this July 2016.

Allisea Bourne is as athletic as she is beautiful, first going from high school to attend the University of Maryland on a Soccer scholorship,and graduating with a with a degree in Accounting. But before settling down to aboting corporate office job as an account, this beautiful 5'9" blond who resembles the legendary Marilyn Monroe, thought she'd give modeling and acting a try and made the move to New York where she has found success in both comercial and fashion modeling, and acting. Her credits include an appearance on the TV show "Younger" and the very interesting short story video we've posted below.
Blake Eden is from Phoenix, Arizona, and is a huge motorsports enthusiast. She grew up working in her father's business of buying, repairing and selling cars and motorcyles. Having motorcycles parked in the house was just part of the norm for her, and she was always rebuilding car motors with her dad. Blake rode a KTM dirt bike in the desert, and got heavily into building up and driving cars in Drifting competition. But after destroying her Nissan drift car into a wall, and totaling her new 2012 BMW M3 while drifting on the street, She tell us she's taking a break from owning cars for a while to "settle down". We hope she doesn't settle down too much, but will take her driving passion to the track where the concequences aren't as serious or expensive.

Blake moved to Los Angeles just a year ago to get into glamour and fashion modeling. One of her biggest credits include Penthouse magazine cover Pet and centerfold for March 2016.

The girls' exciting and busy month of FastDates.com Calendar shoots begin with a drive from Los Angeles up the California Coast on Highway 1 to Montery California for the 2016 Laguna Seca USA World SBK & AMA Superbike round July 8-10th to shoot the Fast Dates World Superbike Calendar and serve as official SBK Podium and Gird Girls at Mazda Raceway Laguna Seca.
Following the Laguna Seca Superbike weekend, Alissa and Blake will return to Los Angeles to stay at the Fast Dates Calendar Mansion and Studio and enjoy the sights and shoot with Jim for the Garage Girl Calendar. Then on the weekend of July 23-24th they will be in attendance at the Saturay July 23rd LA Calendar Motorcycle Show at the Sagebrush Cantina in Calabasas to help Jim premier the new 2017 FastDates.com Calendars and help with the Calendar Bike Building Championship awards. Then the following day Sunday the 24th, the Kittens will be at Jim's home and studio to shoot with all the the top custom motorcycles from the Show for the next 2018 Iron & Lace Custom Motorcycle Calendars, and host a house party and concert with the winning bike builders and Show staff. Tickets for the Bike Show and the Private mansion House Party are avaible on the Calendar Show web page here - http://www.FastDates.com/BIKESHOW.HTM

Below is a short freature movie which Alissa recently starred in. Is this Kitten talented or what!
This video was produced by Alex Grybauskas who " I discovered writer Chuck Palahniuk (writer of Fight Club among many great novels) as a budding film student in 2004 and he quickly became my favorite author. His use of language and style and larger-than-life characters have inspired my own creations for years.

This is my ode to his work, an adaptation of a little known short story he wrote 25 years ago called "Negative Reinforcement". It was the first work he ever had published, in a 1990 issue of Modern Short Stories. It's a hyper-stylized look into the way we fantasize about and pass judgement on strangers based on the briefest of physical clues.

Read more about the journey of this passion project at https://audreyfilm.wordpress.com/. I hope you enjoy watching it as much as I enjoyed creating it."

This is a non-profit film, created for the enjoyment of the community. All rights belong to Chuck Palahniuk.

The original short story can be found at http://chuckpalahniuk.net/features/shorts/negative-reinforcement

Find more of my work at www.mikebandalexg.com

directed & edited by Alex Grybauskas
starring Alissa Bourne and Spencer Carter
produced by Wendy Luong
cinematography by Bill Hoffmann
---
HARLEY-DAVIDSON UNVEILS XG750R FLAT TRACKER
Next Generation, Liquid-Cooled Factory Harley-Davidson XG750R Flat Track Bike based off new water-cooled Street 500/750 platform Breaks Cover at AMA Pro Springfield Mile

MILWAUKEE (May 26, 2016) – A new-generation Harley-Davidson® flat-track motorcycle is ready to race. The Harley-Davidson® Screamin' Eagle® Factory Team is unleashing the XG750R, its first all-new flat track race bike in 44 years, to battle in fierce, adrenaline-filled competition on dirt ovals across the U.S. The XG750R will make its official competition debut Sunday, May 29, at the AMA Pro Flat Track Springfield Mile in Illinois.
Powered by the fuel-injected, liquid-cooled Harley-Davidson Revolution X™ V-Twin engine, the XG750R will be raced by Factory Team rider Davis Fisher on the AMA Pro Harley-Davidson GNC1 presented by Vance & Hines flat track series. The new XG750R motorcycle is strictly for race competition and will not be offered for sale at this time.
The new flat tracker is powered by the 750cc Revolution X™ V-Twin engine designed for the Harley-Davidson Street® 750, a motorcycle built for maximum urban maneuverability with rebellious Dark Custom™ attitude. Tuned for the track, this modified Revolution X engine will power the new XG750R in the extreme heat of competition as it fights to be first to the finish line.
The race-modified Revolution X engine and a racing frame for the XG750R were developed by Vance & Hines Motorsports. Vance & Hines also is the partner for the factory Harley-Davidson® Screamin' Eagle®/Vance & Hines drag racing program where V-Rod® motorcycles have won eight of the past 12 NHRA Pro Stock Motorcycle drag racing championships.
"After decades of flat-track racing success behind the Harley-Davidson XR750 flat track motorcycle, we knew it was time to develop the next-generation Harley-Davidson to compete in one of the best spectator racing sports out there today," said Kris Schoonover, Harley-Davidson racing manager. Fisher, in his first season racing with the Harley-Davidson Screamin' Eagle Factory Team and a rookie on the GNC1 series, will be the first racer aboard the XG750R. The 18-year-old racer from Warren, Ore., won the 2015 AMA Pro GNC2 championship.
"We wanted a young rider with plenty of raw ability for the XG750R program, and Davis proved himself in the GNC2 class," said Schoonover. "We are excited to have the opportunity to bring an emerging talent like Davis up to the GNC1 series to develop the new bike alongside an experienced champion like Brad Baker."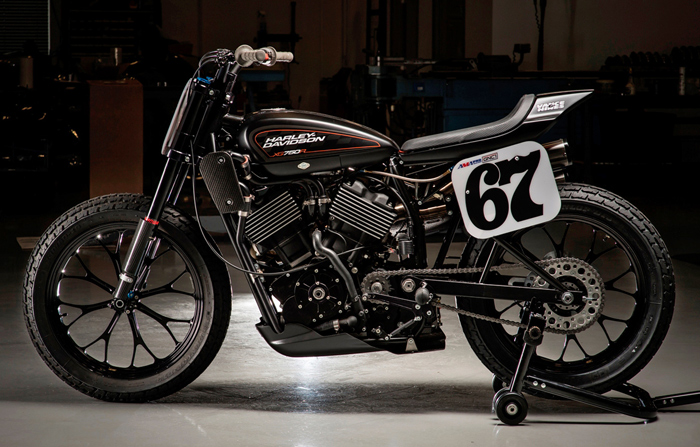 Harley-Davidson Screamin' Eagle Factory Team rider Brad Baker, 23 years old and the 2013 AMA Pro Grand National Champion, will continue to race aboard the proven Harley-Davidson XR750 motorcycle while Fisher races the XG750R through its developmental stage.

At the May 29th 2016 Springfield Mile, H-D factory rider Davis Fisher finished 8th on the new Harley XG750R, behind behind a slew of Kawasaki Ninja 650 in-line twins, and 9 seconds down behind podium finishers factory Harley Rider Brad Baker in 3rd on the old XR750, privateer Jared Mees also on an XR750, with Bryan Smith on a Kawasaki Ninja 650 taking the race win. The more advanced design of the 4-valve DOHC Kawasaki engine proving highly competitive despiteits smaller displacement.
"The XG750R has shown great potential in testing and the first few races this season," said Schoonover. "But as with any new racing motorcycle, there will be work to do. We're excited to continue testing the XG750R in real world competition, and as we make our way through the season, we will evaluate the performance of the bike and our factory riders to see if Baker might switch to the new bike."
Check Harley-Davidson.com for a full listing of this season's races; also follow Harley-Davidson on Facebook for racing updates.
---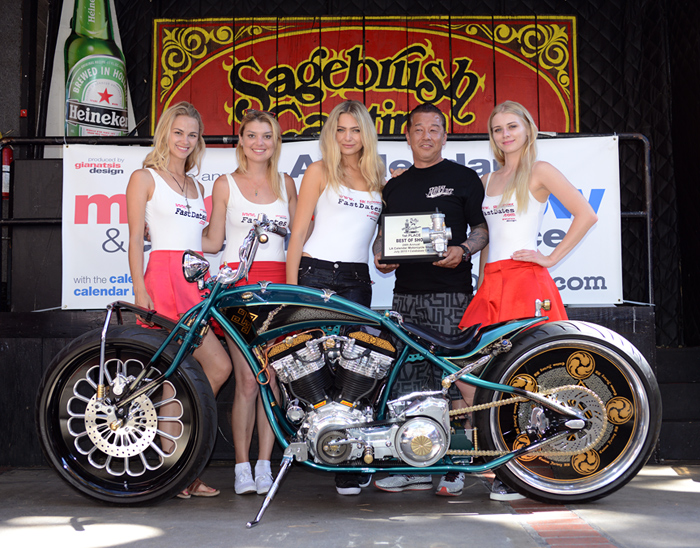 2015 LA Calendar Best of Show winner Hiroyuki Hirata with Calendar Kittens Sara, Apple, Helena and Alena.
Builder Hiroyuki Hirata returns from Japan to take his 2nd Best of Show with "Zero Fighter"
2015 LA Calendar Motorcycle & Calendar Girl Music Show
The Sagebrush Cantina, Calabasas, CA, Saturday July 25th 2015 - The 2015 LA Calendar Motorcycle Show continued its now 24- year tradition as the premier outdoor streetbike event in America as it rocked the legendary Los Angeles biker hangout and party zone, the Sagebrush Cantina in beautiful downtown Calabasas, California. Featured were top Celebrity Custom Bike Builders from across the globe competitiing in the Calendar Bike Building Championship, selected Vendors and Exhibitors, Calendar Girl Music live performances, and an incredibly delicious Sagebrush Cantina Taco Lunch Buffet included with admission. The Calendar Motorcycle Show again benefited the American Cancer Society with a portion of each Admission Ticket being donated to help find a cure.
COMPLETE 2015 LA CALENDAR BIKE SHOW COVERAGE HERE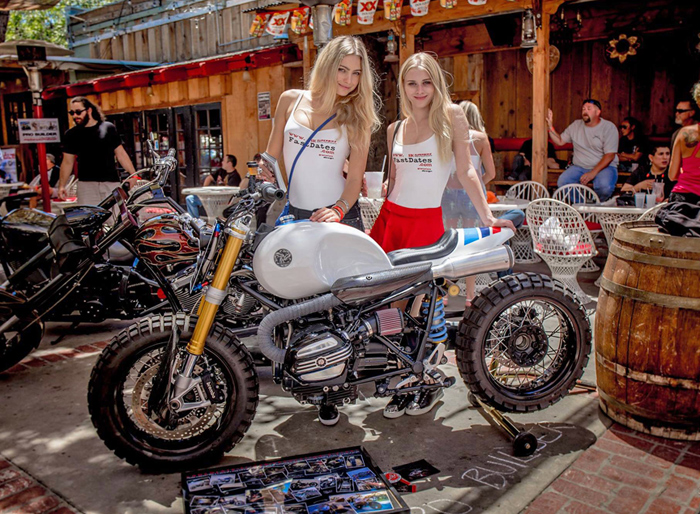 Calendar Kittens and part time Russian Mobsters Helena and Alana with Samuel Kao / JSK Custom Design's cool BMW R9T Retro Custom with legendary BMW Martini Racing paintwork. The bike took 2nd Palce in Pro Builder and won the AFT Customs Visionary Award for the most inovative bike at the Show.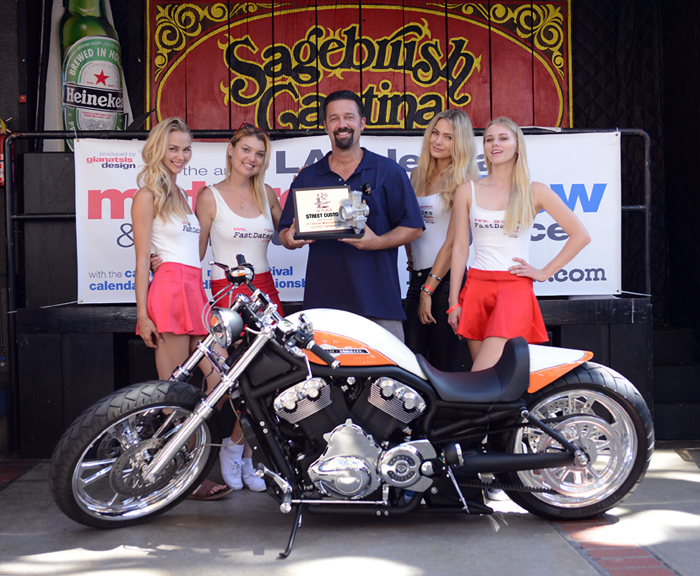 1st Place Street Custom was this beautiful Harley-Davidsonv-Rod by Noceti.
Former AMA Superbike racer and motorcycle industry test rider Thad Wolf rode in on his beautiful and unrestored original 1918 Harley-Davidson, so we just had to give him1st Place in the Classic American class and invited him to bring his bike to the Calendar shoot the next day. Awarding Thad his trophy were FastDates.com Calendar Kittens and the official Laguna Seca SBK World Superbike Podium Gilrs from the previous weeeknds race; Apple Price, Sara Horvath, Helena Milona and Alena Savostikova.

Click HERE for Complete Coverage of the 2o15 LA CalendarMotorcycle Show
---

Fast Dates.com Calendar Video Shoot with Kelsey & Jessica!
Go behind the scenes at the glamorous Gianatsis Design Studios with beautiful new Calendar Kittens Jessica Harbour and Kelsey as they shoot for the FastDates.com Motorcycle PinUp Calendars with photographer Jim Gianatsis. And look for the new 2015 Calendars available right here on July 1st. Order the Calendars!

: Eric Lundmark; Video Editing and Still photography: Jim Gianatsis; Models: Jessica Harbour, Kelsey Silwinski; Make Up: Victoria Rubell, Music: Special thanks to Neil Sedaka for our theme song Calendar Girl; Modeling Agent: Umbrella Girls USA.
---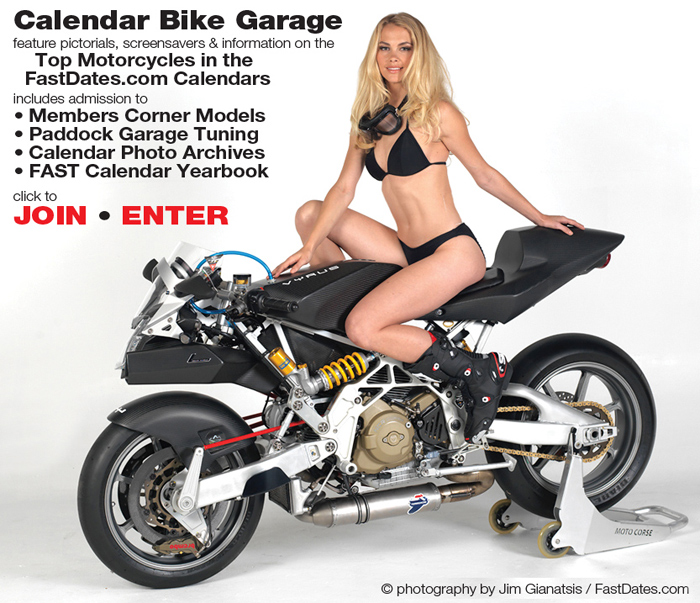 This Month in the Calendar Bike Garage... The World's Coolest Naked Ducati!
Beauitful FastDates.com Calendar Kitten Sara takes us for a ride on the world's most exotic and expensive Ducati streetbike
ever - a $110,000 Vyrus NCR 983 Superleggera in the Calendar Bike Garage and in Members Corner.
Now in the FastDates.com Calendar Bike Garage!
David Beckham's Amazon Triumph Scrambler build by legenday Calendar Bike Builder Rickard Pollock / Mule Motorcycles, photographed with Calendar Kitten and Penthouse Pet Aleska in BIG full screen saver size photos.
David Beckham stars in OUTLAWS - a Belstaff Triumph Movie Short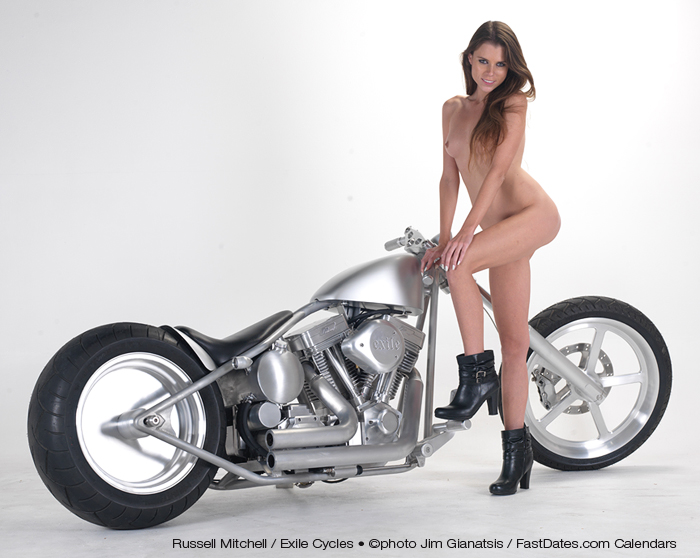 Calednar Kitten Aleksa, pictured her with a wild Russell Mitchell / Exile Cycles Silver Cusom is featured under the name "Jessica" on the popular adult website X-Art.com where she likes to pleasure herself a lot, have some really hot girl-girl encounters, and enjoys really exciting love making her boyfriend Alex. You won't want to miss any of this. CLICK HERE to Visit Jessica on X-Art.com
Most Exile Cycles were are accustomed to seeing are like this latest bike from Russell Mitchell, a primer Black Softail Bagger.
Russell got his start as a builder with his fir ever custom bike featured at the LA Calendar Motorcyle Show and in the Iron & Lace Calendar back in 1998. Look for both this Silver and the Black bike in the next Iron & Lace Calendar.
---
Calendar Kitten Lindsay
2016 FastDates.com Calendar Kitten Lindsay Hancock has no hesitation when it comes to modeling in lingerie or less.
You'll wantd to explore her sexy nude pictorials in Members Corner to find out for yourself.
Jacqueline is featured in Meet the Models
and Members Corner in a very revealing pictorial.
Members Corner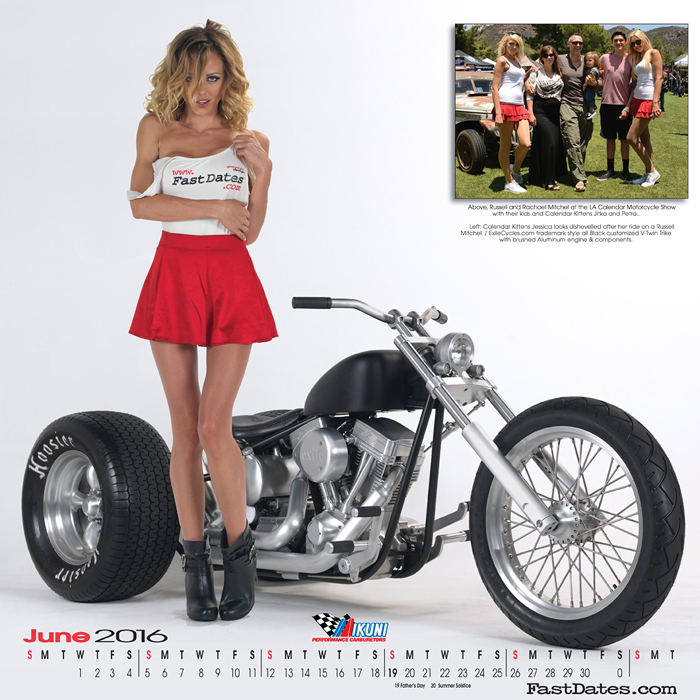 This Month in the Iron & Lace Calendar ...
Beautiful Calendar Kitten Lindsay Hancock with a Russell Mitchell / ExileCycles.com custom V-Twin Trike.
Order the new Iron & Lace Calendar - Click on the Calendar Picture Above or Here to Order

And in Members Corner...
You can see more of this Bike and our other Calendar Bikes with the beautiful Calendar Kittens
with BIG screensaver size pictures featured in the Calendar Bike Garage.
And see more of our beautiful Calendar Kittens in more revealing photos in Members Corner.
---
There's more! Go to Iron & Lace News
Previous Month
Return to Iron & Lace Calendar News Front Page
More Calendar Motorcycle & Calendar Kitten News
Go to:
Fast Dates • Garage Girls • Iron & Lace
• Meet the Models
Click to see even more of our sexy Fast Dates Calendar Kittens...

Amazon.com Top Brand Motorcycle Apparel & Parts


MotorcycleSuperstore.com
---
Many of our Calendar Kittens can also be seen on these partner websites...


Click for a Free Met Art Sample Model Gallery Updated Each Day!