Iron & Lace Calendar News January - February 2017
And check out Last Month's Iron & Lace News...
MORE NEWS HERE

This Month in the Iron & Lace Calendar ...
LA Calendar Motorcycle Best of Show winner Hiroyuki Hirata / B&B Factory, Japan Radical Pro Class Customwith beautiful Calendar Kittens Sara, Alena P and Alena S who are featured in all our 2017 Calendars.
FastDates.com Calendars are highest quality full color 15 x 15" wire spiral bound printed on heavy art stock
revealing 16 months beginning with September.
Click on the Calendar Picture Above or Here to Order
You can see more of this Bike and our other Calendar Bikes with the beautiful Calendar Kittens
with BIG screensaver size pictures featured in the Calendar Bike Garage.
And see more of our beautiful Calendar Kittens in more revealing photos in Members Corner.
Both are available with your Members Corner Membership.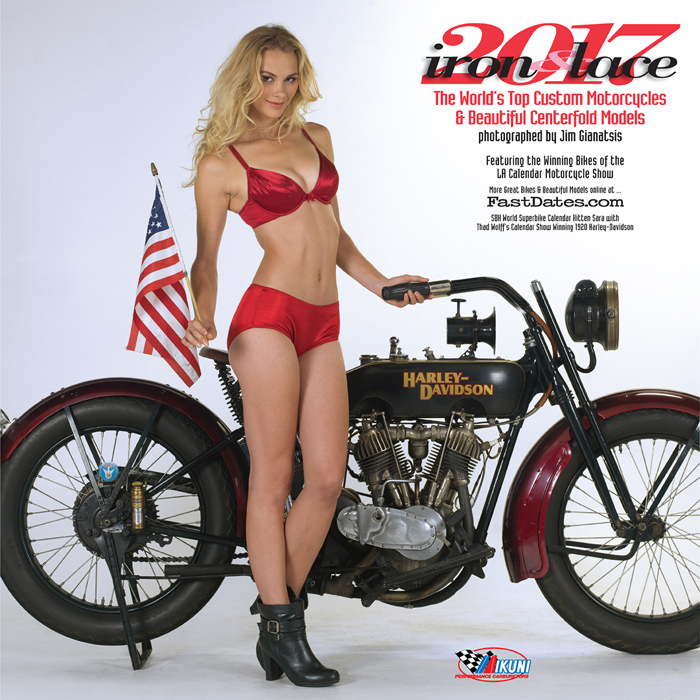 2017 Iron & Lace Custom Motorcycle Pinup Calendar

Iron & Lace features a 16-month look at the world's top custom motorcycles photographed by legendary photographer Jim Gianatsis featuring the 2015 LA Calendar Motorcycle Show's Calendar Bike Championship winners including Best of Show winner Hiroyuki Hirata's wild Big Twin Street Custom, Samuel Kao's BMW and Gustavo Penna's Apogee Motorworks Ducati Cafe Racers, plus more cool customs from legendary Calendar builders Richard Pollock, a beautiful bagger and an old school chopper from Ron Simms, and a sexy bobber from Russell Mitchelll / Exile Cycles.
The beautiful Calendar Kittens include SBK umbrella girls Sara Horvath, Alena Pyshnaya and AlenaSavostikova in revealing lingerie, with a special 4th of July tribute featuring Thad Wolff's classic American 1920 Harley Davidson cover bike.
Here's your chance to see why custom iron and beautiful girls in sexy lingerie go so well together in Iron & Lace!
The Calendar couldn't get any steamier without an "X" rating -
You'll have to visit our Member's Corner for that!

This is your exclusive 16-month pit pass to the world's top custom bmotorcycles and beautiful centerfolds in
revealisng lingerie. Calendars are highest quality full color 15 x 15" wire spiral bound printed on heavy art stock
revealing 16 months beginning with September. $19.95 each - Click on the Calendar Covers below to Order Now
You'll also find our Calendar Kittens and Motorcycles in revealing pictorials in MEMBERS CORNER

Click on the Covers Below to Order the Current Calendars
Also Order Current & Past Edition Calendars in Collectors Corner


Click on Cover to Order Now

2017 Fast Dates
SBK Racebike Pinup Calendar
SBK World Superbike & Cafe Bikes w/Models
ISBN 1578651913


Click on Cover to Order Now

2016 Fast Dates
SBK Racebike Pinup Calendar
SBK World Superbike & Cafe Bikes w/Models
ISBN 1578651816


Click to Order Online

2017 Iron Lace
Centerfold Models and Custom Bikes
15-inch Spiral Bound
ISBN 1578651921


Click to Order Online

2016 Iron Lace
Centerfold Models and Custom Bikes
15-inch Spiral Bound
ISBN 1578651824


Click to Order Now

2017 Garage Girls
The FastDates.com Calendar Kittens playing
dirty without the bikes getting in the way!
ISBN 1578651931


Click to Order Now

2016 Garage Girls
The FastDates.com Calendar Kittens playing
dirty without the bikes getting in the way!
ISBN 1578651832
Bikes & Girls 2017 Wall Calendar from Presco
If you're looking for something in a little different format then our regular high quality 15x15 in. FastDates.com Wall Calendars,
our image licensing partner Presco offers this beautiful 13" high x 19" wide wire spiral bound Girls & Bikes 2017 Wall Calendar featuring 12 of our best Iron & Lace Calendar photos from the previous 2 years. It's available from our dealer Calendars.com
---
NEW! FAST 2017, 2016, 2015, 2014 Calendar Digital Yearbooks
Go behind the scenes of the FastDates.com Calendar photo shoots at the SBK World Superbike races, the Los Angeles Calendar Motorcycle Show & Concourse d' Elegance, and inside the FastDates.com Studio of famed photographer Jim Gianatsis. Meet the official SBK World Superbike Calendar Kittens who also serve as the official SBK podium and grid girls, the top factory riders of World Superbike, and America's top custom bike builders. You'll find detailed editorial photo features on the Calendars' top Custom and Race bikes, and on the Calendar Kittens.
Did we forget anything? - Oh yes! The new FAST 2015 Calendar Yearbook Digital Edition features in high resolution every page in the new 2015 Fast Dates World Superbike, Iron & Lace Custom Bikes, Garage Girls and Cafe Racers Calendars featuring the world's top race and custom bikes and the beautiful Calendar Kittens! Now in Members Corner
---


From the left: Builder Hirokai Takai, Calendar Show producer Jim Gianatsis, Calendar Kitten Kaustin Rose,
Best of Show winner Yuichiti Yoshizkwa, Kittens Alissa Bourne and Daria Dali.

Yuichiti Yoshizkwa takes 2016 LA Calendar Motorcycle Best of Show
Calabasas, CA, July 23rd, 2016 - Yuichiti Yoshizkwa / Custom Works Zou, flew his bike in from Japan to take Best of Show at the 2016 LA Calendar Motorcycle Show. This was the 5th year in a row that Asian Builders had claimed the top spot at America's premier custom motorcyce show with their unique had craft builds. Yuichiti's Cafe Racer themed bike features a front swingarm suspension with its Amrican V-Twin replica Shovel Head fed by a exhaust driver turbocharger!

Complete coverage if this year's 2016 LA Calendar Motorcycle Show HERE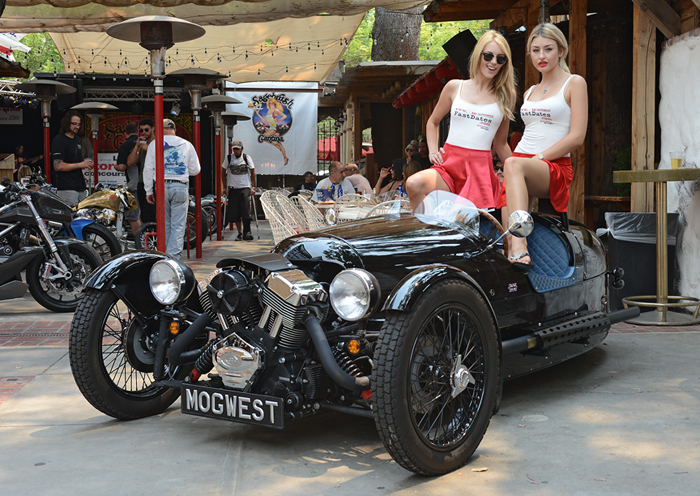 FastDatescom Calendar Kittens Kaustin Rose and Daria Dali check out the beautiful American V-Twin powered
Morgan 3-Wheeler featured at this year's LA Calendar Motorcyle Show.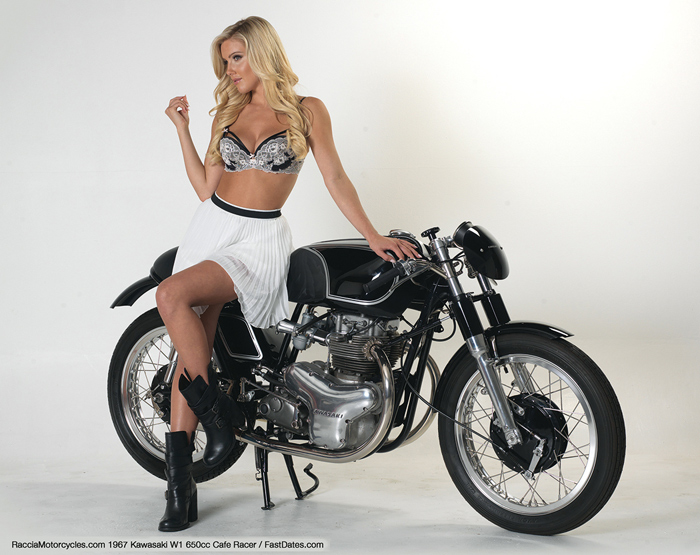 Now in the FastDates.com Calendar Bike Garage!
Mike LaFountain's 2016 LA Calendar Bike Show class winning 1967 Kawasaki W1 Cafe Racer with SBK Fast Dates World Superbike Calendar Kitten Jessica Harbour in Big Screen Saver Size Pictures and bike details - http://www.FastDates.com/IronLaceGarage.HTM
---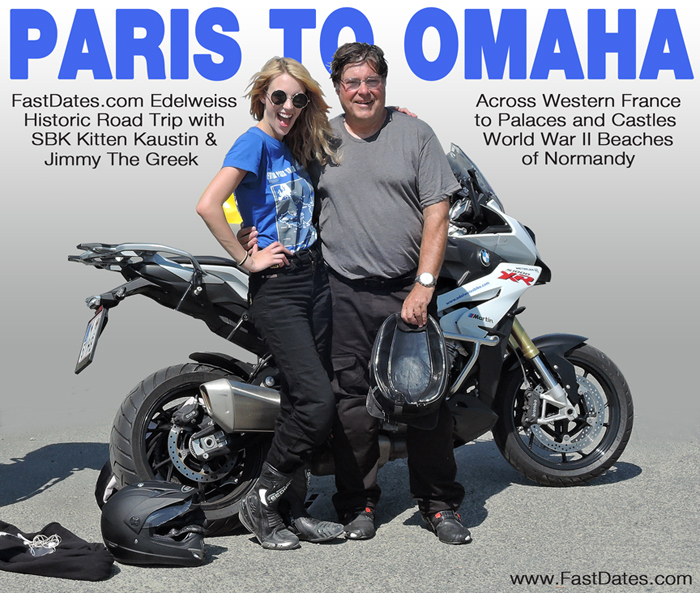 We're Back! Riding Edelweiss Motorcycle Tour - From Paris to Omaha, France
Versailles, France, August 2016 - How we spent our summer vacation! On the exciting Edelweiss Bike Travel 2016 Paris to Omaha Beach 10-day motorcycle tour across western France visiting the histroric battle sites of World War II where editor Jim Ginatsis father, B26 bomber pilot Capt. James Gianatsi played a pivital role in te D-say invasion and liberating France. We rode 2-up two-up with awesome FastDates.com SBK World Superbike Calendar Kitten Kaustin "Kaussie" Rose in a story for the FastDates.com Website. Our bike of choice would be the newly introduced BMW R 1000 XR Sport Tourer, based on the potent BMW R 1000 RR Superbike. For the Complete Story Click on the Photos or Check Out the Complete Story Here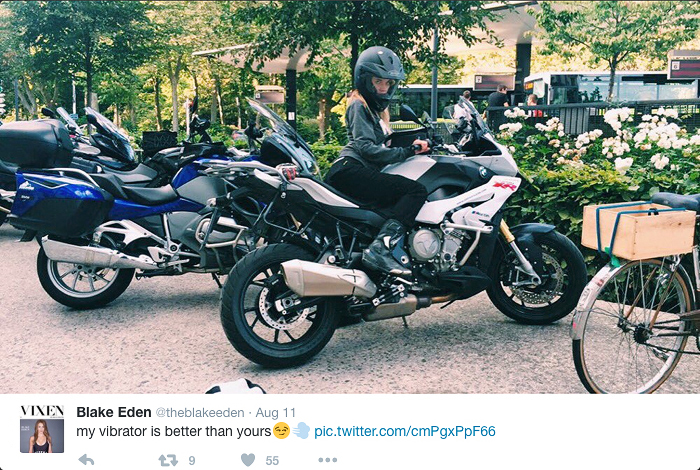 Blake Eden is from Phoenix, Arizona, and is a huge motorsports enthusiast. She grew up working in her father's business of buying, repairing and selling cars and motorcyles. Having motorcycles parked in the house was just part of the norm for her, and she was always rebuilding car motors with her dad. Blake rode a KTM dirt bike in the desert, and got heavily into building up and driving cars in Drifting competition. But after destroying her Nissan drift car into a wall, and totaling her new 2012 BMW M3 while drifting on the street, She tell us she's taking a break from owning cars for a while to "settle down". We hope she doesn't settle down too much, but will take her driving passion to the track where the concequences aren't as serious or expensive.

Blake moved to Los Angeles just a year ago to get into glamour and fashion modeling. One of her biggest credits include Penthouse magazine cover Pet and centerfold for March 2016.

The girls' exciting and busy month of FastDates.com Calendar shoots begin with a drive from Los Angeles up the California Coast on Highway 1 to Montery California for the 2016 Laguna Seca USA World SBK & AMA Superbike round July 8-10th to shoot the Fast Dates World Superbike Calendar and serve as official SBK Podium and Gird Girls at Mazda Raceway Laguna Seca.
Following the Laguna Seca Superbike weekend, Alissa and Blake will returned to Los Angeles to stay at the Fast Dates Calendar Mansion and Studio and enjoy the sights and shoot with Jim for the Garage Girl Calendar. Then on the weekend of July 23-24th they appeared at the Saturay July 23rd LA Calendar Motorcycle Show at the Sagebrush Cantina in Calabasas to help Jim premier the new 2017 FastDates.com Calendars and help with the Calendar Bike Building Championship awards. Then the following day Sunday the 24th, the Kittens were at Jim's home and studio to shoot with all the the top custom motorcycles from the Show for the next 2018 Iron & Lace Custom Motorcycle Calendars, and host a house party and concert with the winning bike builders and Show staff. Tickets for the annual Bike Show and the Private mansion House Party are available on the Calendar Show web page here - http://www.FastDates.com/BIKESHOW.HTM

---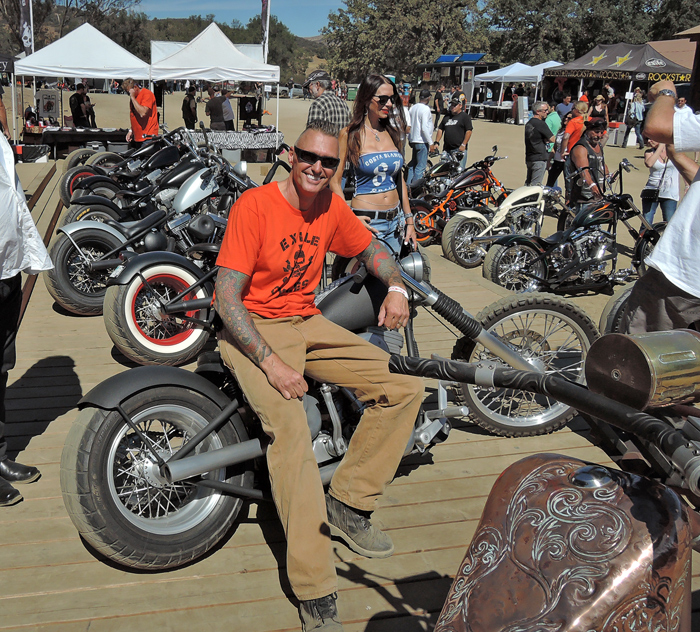 Exile Cycles 20th Anniversary Party at
Paramount Ranch - Near the Legendary Rock Store
Paramount Ranch State park, Agoura, CA, October 9tht, 2016 - The Russell Mitchell / Exile Cycles' 20th Anniversary Partytook place inside the old Western Town at Paramount Ranch National Park located just northwest of Los Angeles on October 9th, 2016 . It is an awesome location, just up the road from the legendary weekend biker hangout the Rock Store off Mulholand Highway at 2903 Cornell Rd, Agoura Hills, CA 91301 in the beautiful Santa Monica mountains.
Russell with the Beat of Show winner at the Exile Cycles 20th Anniversay Party.
Russell is one of our oldest and best buddies, and one of the many legendary top custom builders along side Jessie James, Jessie Rooke, Roland Sands, Russ Tom, Harold Pontarelli, and Richard Pollock who first got their start with the FastDates.com Calendars and the LA Calendar Motorcycle Show.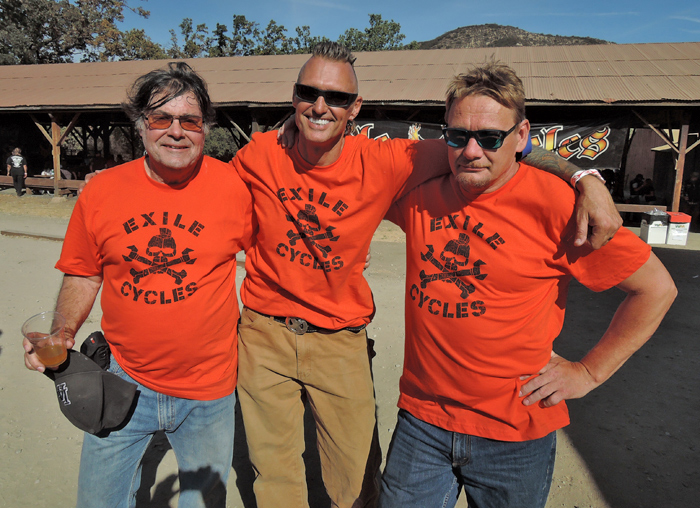 Cole friends for over 20 years, FastDates.com Calendar producer Jim Gianatsis (left) with Russell Mitchell (center).

Russell's first wife Nancy was one of our Calendar Kittens back in the mid '90s when then male model Russell came with her on one of calendar bike shoots. There Russel, who had build custom British bikes as a kid, was re inspired to build his first custom Harley. FastDates.com Calendar photographer Jim Gianatsis told Russ if he built a bike had Nancy pose on it for free, that it would be featured in a Calendar and Magazine shoot, and at the next Calendar Bike Show. Russel did just that, Jim photographed his first trademark style Exile custom for the Iron & Lace Calendar, and it was featured in Cycle World's Big Twin magazine at the time. From there the rest is history including Russell having been featured for a few years on the Biker Build Off TV series.

Russell has since remarried to beautiful Rachel, with Rachel now also having been featured in the Iron & Lace Calendar just a few years ago with one of Russell's latest Exile custom builds.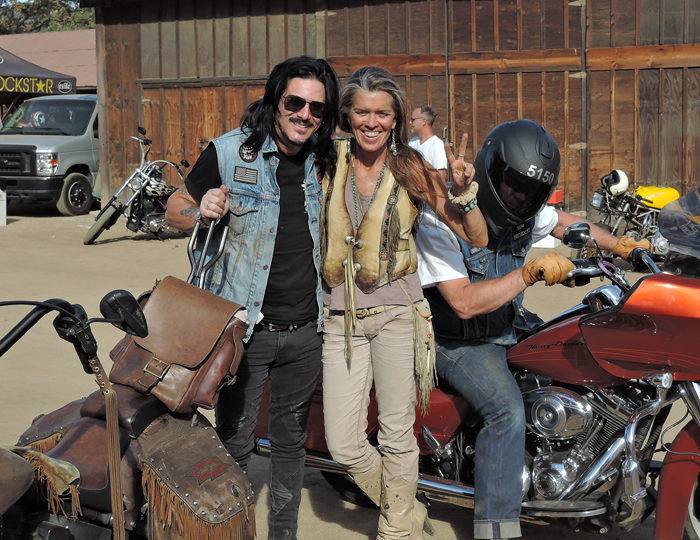 One of the biker celebrities at the Exile 50th Anniversary party was rock guitarist Gilby Clarke.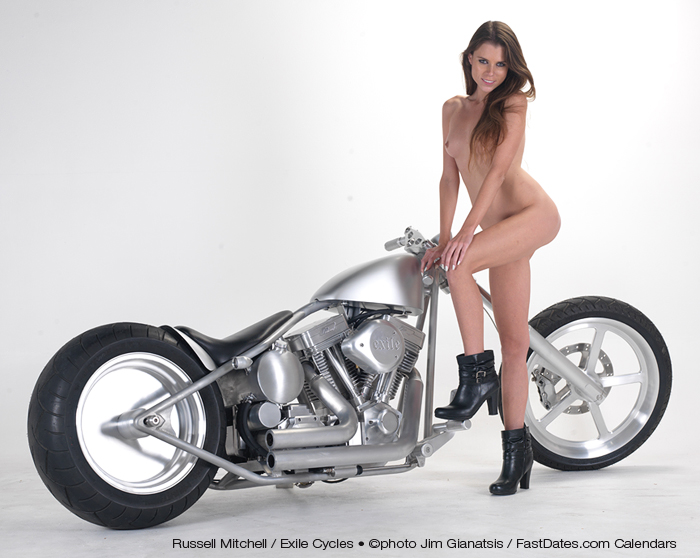 Calednar Kitten Aleksa, pictured her with a wild Russell Mitchell / Exile Cycles Silver Cusom is featured under the name "Jessica" on the popular adult website X-Art.com where she likes to pleasure herself a lot, have some really hot girl-girl encounters, and enjoys really exciting love making her boyfriend Alex. You won't want to miss any of this. CLICK HERE to Visit Jessica on X-Art.com
---
The Los Angeles 6th Street Bridge Remembered
One of the many features in the new FAST 2017 Calendar Digital Yearbook available for viewing now in
FastDates.com Members Corner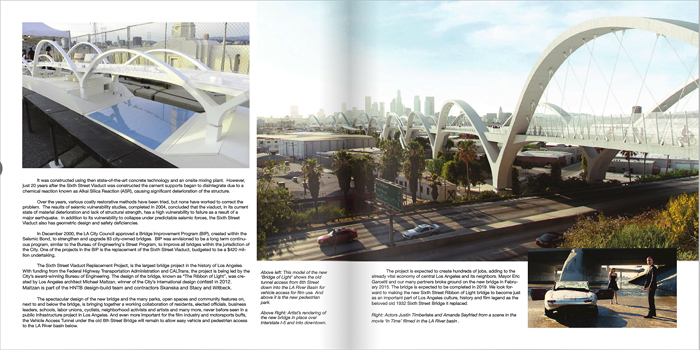 ---
HARLEY-DAVIDSON UNVEILS XG750R FLAT TRACKER
Next Generation, Liquid-Cooled Factory Harley-Davidson XG750R Flat Track Bike based off new water-cooled Street 500/750 platform Breaks Cover at AMA Pro Springfield Mile

MILWAUKEE (May 26, 2016) – A new-generation Harley-Davidson® flat-track motorcycle is ready to race. The Harley-Davidson® Screamin' Eagle® Factory Team is unleashing the XG750R, its first all-new flat track race bike in 44 years, to battle in fierce, adrenaline-filled competition on dirt ovals across the U.S. The XG750R will make its official competition debut Sunday, May 29, at the AMA Pro Flat Track Springfield Mile in Illinois.
Powered by the fuel-injected, liquid-cooled Harley-Davidson Revolution X™ V-Twin engine, the XG750R will be raced by Factory Team rider Davis Fisher on the AMA Pro Harley-Davidson GNC1 presented by Vance & Hines flat track series. The new XG750R motorcycle is strictly for race competition and will not be offered for sale at this time.
The new flat tracker is powered by the 750cc Revolution X™ V-Twin engine designed for the Harley-Davidson Street® 750, a motorcycle built for maximum urban maneuverability with rebellious Dark Custom™ attitude. Tuned for the track, this modified Revolution X engine will power the new XG750R in the extreme heat of competition as it fights to be first to the finish line.
The race-modified Revolution X engine and a racing frame for the XG750R were developed by Vance & Hines Motorsports. Vance & Hines also is the partner for the factory Harley-Davidson® Screamin' Eagle®/Vance & Hines drag racing program where V-Rod® motorcycles have won eight of the past 12 NHRA Pro Stock Motorcycle drag racing championships.
"After decades of flat-track racing success behind the Harley-Davidson XR750 flat track motorcycle, we knew it was time to develop the next-generation Harley-Davidson to compete in one of the best spectator racing sports out there today," said Kris Schoonover, Harley-Davidson racing manager. Fisher, in his first season racing with the Harley-Davidson Screamin' Eagle Factory Team and a rookie on the GNC1 series, will be the first racer aboard the XG750R. The 18-year-old racer from Warren, Ore., won the 2015 AMA Pro GNC2 championship.
"We wanted a young rider with plenty of raw ability for the XG750R program, and Davis proved himself in the GNC2 class," said Schoonover. "We are excited to have the opportunity to bring an emerging talent like Davis up to the GNC1 series to develop the new bike alongside an experienced champion like Brad Baker."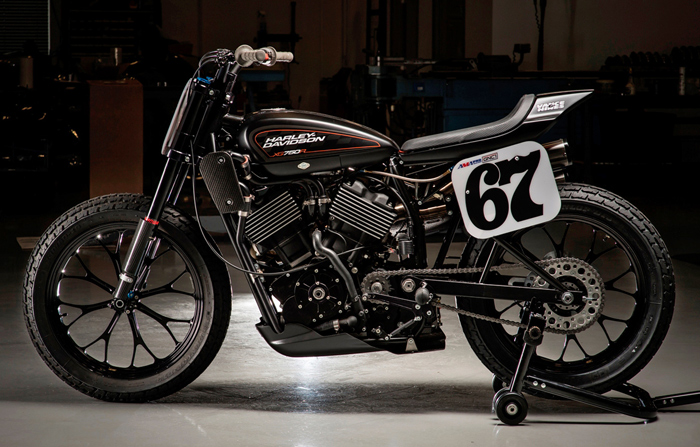 Harley-Davidson Screamin' Eagle Factory Team rider Brad Baker, 23 years old and the 2013 AMA Pro Grand National Champion, will continue to race aboard the proven Harley-Davidson XR750 motorcycle while Fisher races the XG750R through its developmental stage.

At the May 29th 2016 Springfield Mile, H-D factory rider Davis Fisher finished 8th on the new Harley XG750R, behind behind a slew of Kawasaki Ninja 650 in-line twins, and 9 seconds down behind podium finishers factory Harley Rider Brad Baker in 3rd on the old XR750, privateer Jared Mees also on an XR750, with Bryan Smith on a Kawasaki Ninja 650 taking the race win. The more advanced design of the 4-valve DOHC Kawasaki engine proving highly competitive despite its smaller displacement.
"The XG750R has shown great potential in testing and the first few races this season," said Schoonover. "But as with any new racing motorcycle, there will be work to do. We're excited to continue testing the XG750R in real world competition, and as we make our way through the season, we will evaluate the performance of the bike and our factory riders to see if Baker might switch to the new bike."
Check Harley-Davidson.com for a full listing of this season's races; also follow Harley-Davidson on Facebook for racing updates.
---

Fast Dates.com Calendar Video Shoot with Kelsey & Jessica!
Go behind the scenes at the glamorous Gianatsis Design Studios with beautiful new Calendar Kittens Jessica Harbour and Kelsey as they shoot for the FastDates.com Motorcycle PinUp Calendars with photographer Jim Gianatsis. And look for the new 2015 Calendars available right here on July 1st. Order the Calendars!

: Eric Lundmark; Video Editing and Still photography: Jim Gianatsis; Models: Jessica Harbour, Kelsey Silwinski; Make Up: Victoria Rubell, Music: Special thanks to Neil Sedaka for our theme song Calendar Girl; Modeling Agent: Umbrella Girls USA.
---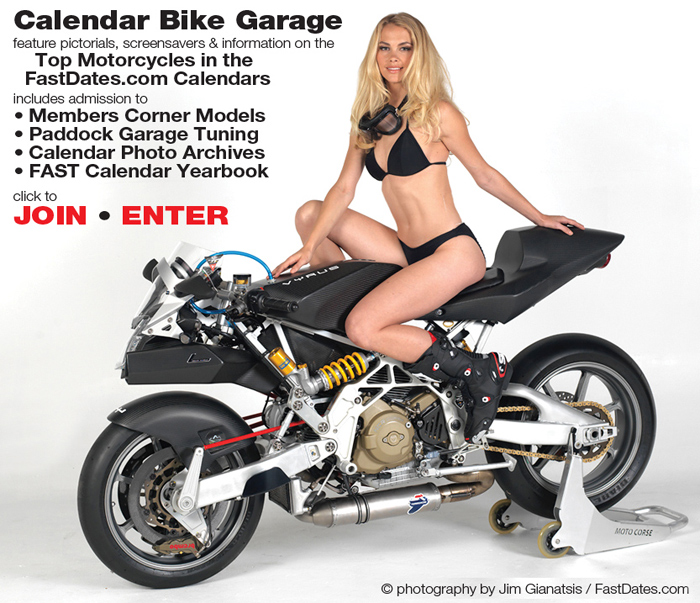 This Month in the Calendar Bike Garage... The World's Coolest Naked Ducati!
Beauitful FastDates.com Calendar Kitten Sara takes us for a ride on the world's most exotic and expensive Ducati streetbike
ever - a $110,000 Vyrus NCR 983 Superleggera in the Calendar Bike Garage and in Members Corner.
Now in the FastDates.com Calendar Bike Garage!
David Beckham's Amazon Triumph Scrambler build by legenday Calendar Bike Builder Rickard Pollock / Mule Motorcycles, photographed with Calendar Kitten and Penthouse Pet Aleska in BIG full screen saver size photos.
David Beckham stars in OUTLAWS - a Belstaff Triumph Movie Short
---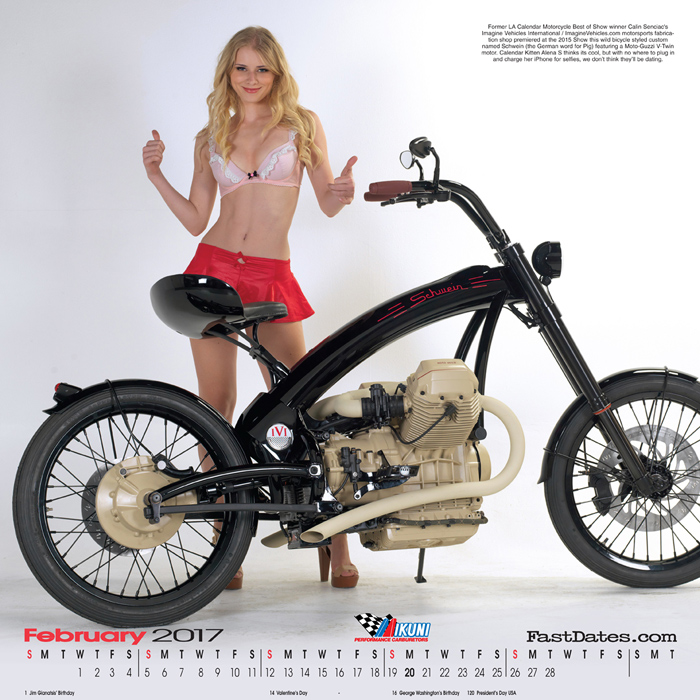 This Month in the Iron & Lace Calendar ...
Calendar Kitten Alena Savostokiva with Calin Senciac and Terry Ward at ImagineVehicles.com wild bicycle styled BMW
powered custom humorously named Schwien as a mix of the bicycle name Schwinn and German word swine meanoing pig.
Order the new Iron & Lace Calendar - Click on the Calendar Picture Above or Here to Order

And in Members Corner...
You can see more of this Bike and our other Calendar Bikes with the beautiful Calendar Kittens
with BIG screensaver size pictures featured in the Calendar Bike Garage.
And see more of our beautiful Calendar Kittens in more revealing photos in Members Corner.
---
There's more! Go to Iron & Lace News Previous Month
Return to Iron & Lace Calendar News Front Page
More Calendar Motorcycle & Calendar Kitten News
Go to:
Fast Dates • Garage Girls • Iron & Lace
• Meet the Models
Click to see even more of our sexy Fast Dates Calendar Kittens...

Amazon.com Top Brand Motorcycle Apparel & Parts


MotorcycleSuperstore.com
---
Many of our Calendar Kittens can also be seen on these partner websites...


Click for a Free Met Art Sample Model Gallery Updated Each Day!