Penthouse Pet and FastDates.com Calendar Kitten Aleksa Slusarchi is the whipped cream topping on this sexy silver raked chopper from Russell Mitchell / ExileCycles.com

Click on the Calendar Picture Above or Here to Order
You can see more of this Bike and our other Calendar Bikes with the beautiful Calendar Kittens
with BIG screensaver size pictures featured in the Calendar Bike Garage.

And see more of our beautiful Calendar Kittens in more revealing photos in Members Corner.
Both are available with your Members Corner Membership.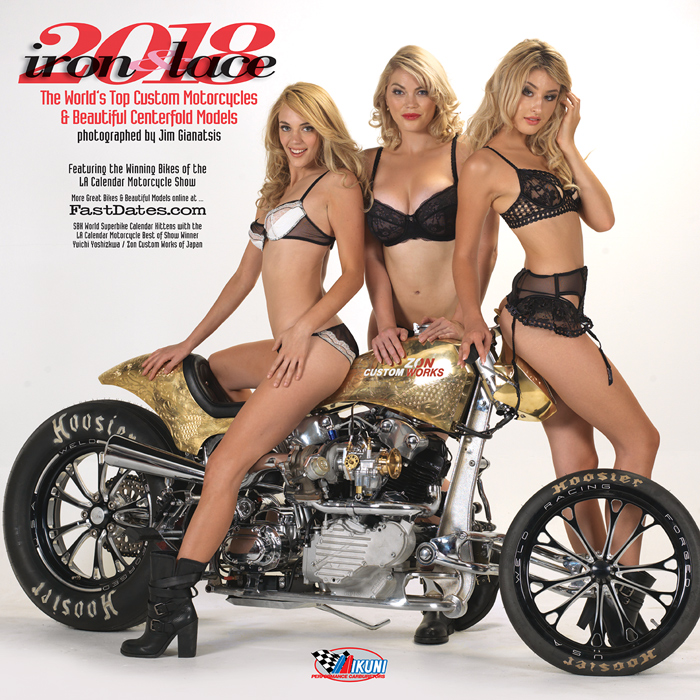 World Premier of the New 2018
Iron & Lace Custom Motorcycle PinUp Model Calendar!
2018 IRON & LACE Custom Bikes and Sexy Centerfold Models
The world's top custom motorcycles featuring LA Calendar Motorcycle Best of Show winner Yuichi Yoshizkwa / Zon Custom Works custom Panhead and partner Yoshikazu Ueda's Street Build Off winning Harley 750. Plus perennial Calendar Show winner Jim Giuffra/ AFT Customs Honda VTX1300, Gustavo Penna's Apogee Motorworks Ducati 1098, plus more cool customs from legendary Calendar builders Richard Pollock, Ron Simms, Russell Mitchell / Exile Cycles, plus Guns & Roses guitarist Gilby Clark's Pan Head, and Christian Guidice's Warson-Motor Sportster.

The beautiful Fast Dates Calendar Kittens featured with the bikes in Iron & Lace 2018 include official
SBK World Superbike umbrella girls Alissa Bourne and Sara Horvath, plus French cutie Valentine, together with
Penthouse centerfolds/ adult starlets Kaustin Rose, Alexsa Slusarchi and Jillian Janson all in revealing lingerie!
This is your exclusive 16-month pit pass to the world's fast roadracing motorcycles and beautiful grid girls in
skimpy swimwear. Wall Calendars are highest quality full color 15 x 15" wire spiral bound printed on heavy art stock
revealing 16 months beginning with September. $19.95 each - Click on the Calendar Covers below to Order Now

You'll also find our Calendar Kittens, the Motorcycles and the Calendar Yearbook in MEMBERS CORNER

Click on the Covers Below to Order the Current Calendars from Amazon.com
For Additional Ordering Information World Wide go to - Fast Dates Calendars
Also Order Current & Past Edition Calendars in Collectors Corner


Click on Cover to Order Now

2018 Fast Dates
SBK Racebike Pinup Calendar
SBK World Superbike & Cafe Bikes w/Models
ISBN 1578652014


Click on Cover to Order Now

2017 Fast Dates
SBK Racebike Pinup Calendar
SBK World Superbike & Cafe Bikes w/Models
ISBN 1578651913




Click on Cover to Order Now



2016 Fast Dates
SBK Racebike Pinup Calendar
SBK World Superbike & Cafe Bikes w/Models
ISBN 1578651816


Click to Order Online

2018 Iron Lace
Centerfold Models and Custom Bikes
15-inch Spiral Bound
ISBN 1578652022


Click to Order Online

2017 Iron Lace
Centerfold Models and Custom Bikes
15-inch Spiral Bound
ISBN 157865192


Click to Order Online



2016 Iron Lace




Centerfold Models and Custom Bikes




15-inch Spiral Bound




ISBN 1578651824


Click to Order Now

2018 Garage Girls
The FastDates.com Calendar Kittens playing dirty without the bikes getting in the way!
ISBN 1578652030


Click to Order Now

2017 Garage Girls
The FastDates.com Calendar Kittens playingdirty without the bikes getting in the way!
ISBN 1578651931


Click to Order Now



2016 Garage Girls




The FastDates.com Calendar Kittens playingdirty without the bikes getting in the way!




ISBN 1578651832
---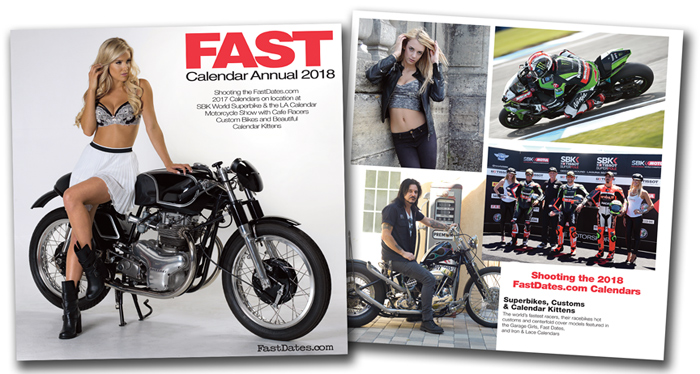 NEW! FAST 2018, 2017, 2016, 2015, 2014 Calendar Digital Yearbooks
Go behind the scenes of the FastDates.com Calendar photo shoots at the SBK World Superbike races, the Los Angeles Calendar Motorcycle Show & Concourse d' Elegance, and inside the FastDates.com Studio of famed photographer Jim Gianatsis. Meet the official SBK World Superbike Calendar Kittens who also serve as the official SBK podium and grid girls, the top factory riders of World Superbike, and America's top custom bike builders. You'll find detailed editorial photo features on the Calendars' top Custom and Race bikes, and on the Calendar Kittens.
Did we forget anything? - Oh yes! The new FAST 2015 Calendar Yearbook Digital Edition features in high resolution every page in the new 2015 Fast Dates World Superbike, Iron & Lace Custom Bikes, Garage Girls and Cafe Racers Calendars featuring the world's top race and custom bikes and the beautiful Calendar Kittens! Now in Members Corner
The Los Angeles 6th Street Bridge Remembered
One of the many features in the new FAST Calendar Digital Yearbooks available for viewing now in
FastDates.com Members Corner
---

Beautiful Sara Balint, builder Richard Pollck and photographer Jim Gianatsis having fun in the studio!

Los Angeles, CA , February 23rd 2018 - Legendary FastDates.com Calendar Bike Builder Richard Pollock of Mule Motorcycsles.com brough two of his newest customer buiulds by the Photo studio this week for Jim Gianatsis to shoot for the eswbsite and Calendars. The bikes included this old school Triumph Bonneville, and a newer Harey-Davidson Sportster, both customized in Pollock's Streetmaster styyle. Our Calendar Kitten was beautiul Sara Balint who was first featured in the 2012 Calendars, and who shot with us this past fall for the new 2019 Calendars released in July 2018.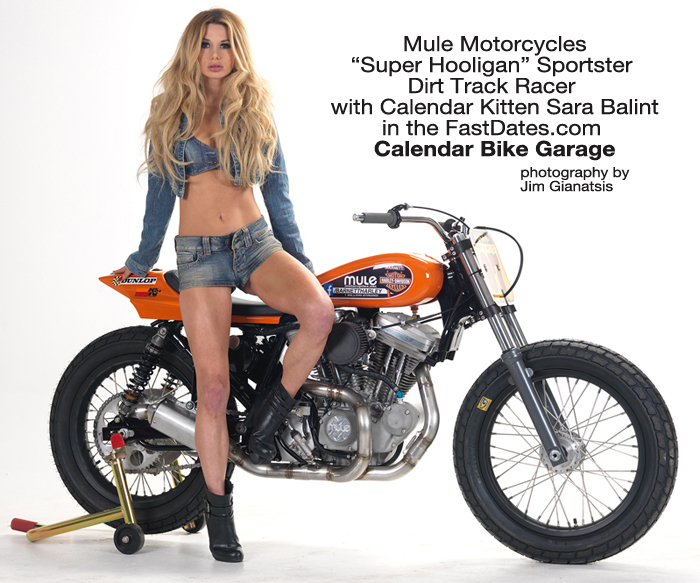 Richard Pollock built the Sportster XR Replica bike with the deleted lower frame section, as a street legal Streetracker. However, after Richaed complte the bike anrhw owner saw it, the owner decided he want to race it in Hooligan Racing. When Hooligan racing promoter Roland Sands saw a picture of the bike he told them the bike would not be eligible to race without a full frame. Plus the owner wanted some additional mod's made to the engine to increase the power, which would not work well if the Sportster engine really was used as a stressed member wwithout a full frame in a racing bike.

Sara hanging out in the FastDates.com office between studio takes with Jim's Ducati 999R Superbike.

So Richard is preparing a new full frame for the bike to make it eligible for Hooligan Racing, and the current cut down frame will be used in another street bike only project. You can contact Richard and buy it from him for your own project street only Sportster.


After the Days photo shoot in the studio Richrd and Sara joined Jim Ginatsi for a latr adternopon luch at the cool bicle themed Pedaler's Fork Cafe in bearby Calabasasm for a great luch of sirlin burgers and craft beers. It was a awesome wrap on a nohter great FastDates.com Calednar shoot!

Look for photo features of both Richard Pollock Mule bikes with Sara in the Calendar Bike Garage.
---
The 2018 Rider RoundUp at the Ranch
& Calendar Bike Building Championship

The 2018 LA Calendar Motorcycle Show's Calendar Bike Building Championship continues its now 28-year tradition as the premier outdoor streetbike event in America in partnership with legendary Calendar Bike Builder Russell Mitchell / Exile Cycles's Rider RoundUp at the Ranch at Paramount State Ranch western movie set in Calabasas, California on Sunday October 17th. Events will feature top Celebrity Custom Bikes & Builders, selected Vendors and Exhibitors, Live Music performances. And the world premier of next year's new 2019 FastDates.com Motorcycle PinUp Calendars featuring the world's top Sport and Custom Motorcycles with the beautiful Calendar Kittens in attendance at the Show. Select Builders and their Bikes will be invited for Monday the 8th after the event to be photographed by producer Jim Gianatsis for the next FastDates.com Calendars.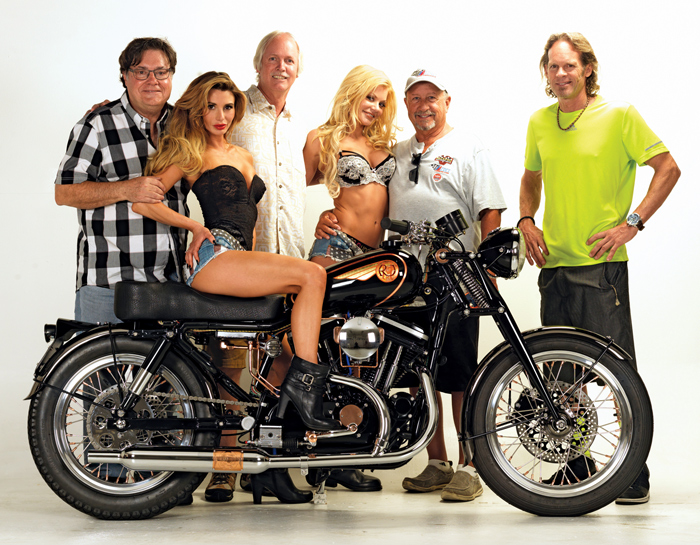 2017 Calendar Bike Builder's Party!
Top Calendar Bike Buider's joined Calenda photographer Jim Gianatsis at Jim's home / studio for a private Calendar BikeBuilder Party Shoot on July 15th 2017 with Invited Calendar Bike Builders and Calendar Kittens, followed by a Dinner Party with Live Music.It all took place at the FastDates.com Calendar Photo Studio in Woodland Hills, CA.
Some of the top custom bike builders and beautiful models joining us for the 2017 Calendar Bike Builder Party included former Calendar Bike Building Championship winners Samuel Kao / JSK Design, Adam Bean / Custom Airbrushing, Ron Simms / Simms Customs, Jim Giuffra / AFT Customs and Richard Jones. Shooting with us this week were former FastDates.com Calendar Kitten Sara Balint featured in our advertising campaign, and adult starlet Brittni Palmer. The live music was provided by Alex Nester, vocalist and keyboards for the legendary Carlos Santa Band, and singer songwriter Lenachka.

Calendar photograoger Jim Gianatsis with Calendar Kitten Sara Balint and a Honda CL362cc Cafe Racer
built by Calendar Bike Builder Jim Giuffra / AFT Customs.
Calendar Kitten Corle and Max Hazam's Show Winner! See complete detaisl of this radical custom cafe racer with full size screensavers pictures in the Calendar Bike Garage.

Max Hazan's Supercharged Husqvarna Replica Board Track Racer
Takes Best of Show at the October 15th Rider RoundUp at the Ranch

Report and Photos by Jim Gianatsis • Click on any Picture for Hi-Resolution
Paramount Movie Ranch State Park, Agoura, CA, October 15th, 2017 - Our Calendar Bike Building Championship joined the Rider RoundUp at the Ranch produced by celebrity Calendar Bike builder Russell Mitchell and wife Rachel / Exile Cycles at the Paramount Western Movie Ranch in Agoura, CA, just down the road from the legendary Southern California biker hangout The Rock Store on Mulholland Highway. It was an exciting day of beautiful Custom Motorcycles, Activities, great tasting Food Truck, BBQ and Craft Beer, Venders, Manufacturers and Live Music. The Rider Round Up at the Ranch was the second year celebration of Exile Cycles' 20th Anniversary Party held at Paramount Ranch the year before, now continuing on an annual basis. And again it was a benefit to raise money to Fight Leukemia by auctioning off products and services, together with money donated by the Vendors and Sponsors, this year raising $7000 for the Cause.
Taking Best of Show at the 2017 Rider RoundUp Calendar Bike Building Championship was Max Hazan's hand crafted Supercharged KTM Single Cafe Racer. Max, who has a storefront custom bike shop in Venice Beach, CA, built this latest customer consigned bike bike from scratch around a 420cc KTM / Husqvarna 4-stroke single cylinder dirt bike engine. Max fabricated a belt drive system off the engine's crankshaft to run a mini dual rotor Supercharger fed by a Keihin FCR39 Racing Carburetor.
The KTM single's steel tube rigid frame chases hosing the water-cooled motor was built around 26-inch classic car tires with
custom built spoked wheels. The tiny rear disc brake located behind the rider's right foot, operates a shaft through the frame
with a fixed primary sprocket on the other side, engaged with the drive chain, to slow the rear wheel down when the foot bake
is pressed. Very original! The hand made springer front forks with hydraulic damping and a front headlight that turns with the
steering stem is also unique. The bike is finished off with a beautiful had made aluminum fuel tank, handlebars and many other components. It was unanimous by anyone who saw it, that Max's Supercharged KTM Board Track Racer Replica was the Show
winner, one of the Calendar Bike Building Championship's best ever builds in its 26 year history.
Coverage 2017 Calendar Bike Builder Party Here

Coverge 2017 Rider RoundUp Calendar Bike Building Championhip Here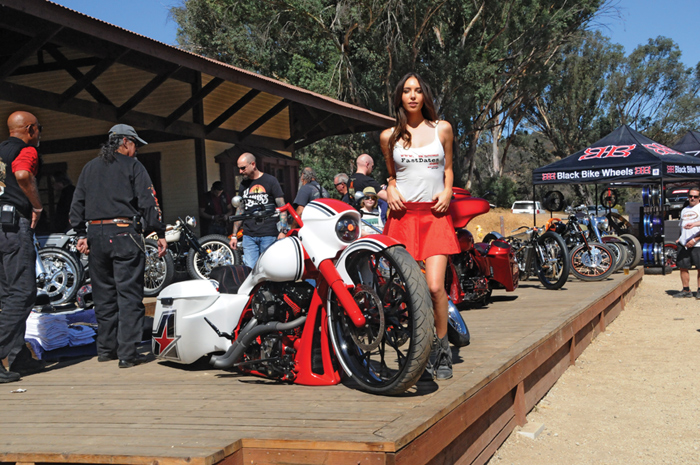 Aboce, Calendar Kitten Curle on the Paramount Western Ranch Train Station platform with the show bikes.
Below, Russell and Rachel Mitchel and the krew from Exile Cycle who partnered with us
to put on the Rider RoundUp at the Ranch.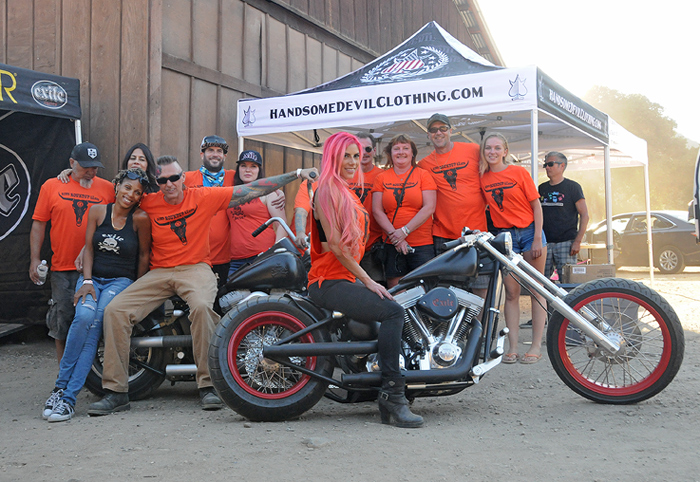 ---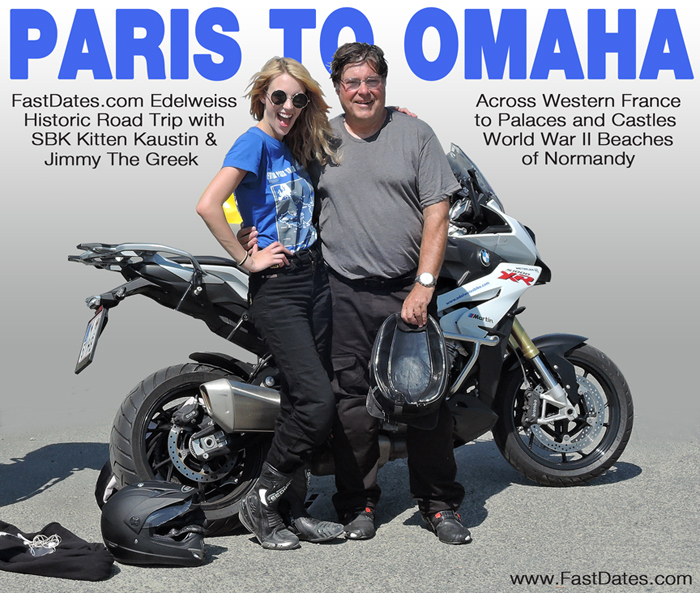 We're Back! Riding Edelweiss Motorcycle Tour - From Paris to Omaha, France
Versailles, France, August 2016 - How we spent our summer vacation! On the exciting Edelweiss Bike Travel 2016 Paris to Omaha Beach 10-day motorcycle tour across western France visiting the histroric battle sites of World War II where editor Jim Ginatsis father, B26 bomber pilot Capt. James Gianatsi played a pivital role in te D-say invasion and liberating France. We rode 2-up two-up with awesome FastDates.com SBK World Superbike Calendar Kitten Kaustin "Kaussie" Rose in a story for the FastDates.com Website. Our bike of choice would be the newly introduced BMW R 1000 XR Sport Tourer, based on the potent BMW R 1000 RR Superbike. For the Complete Story Click on the Photos or Check Out the Complete Story Here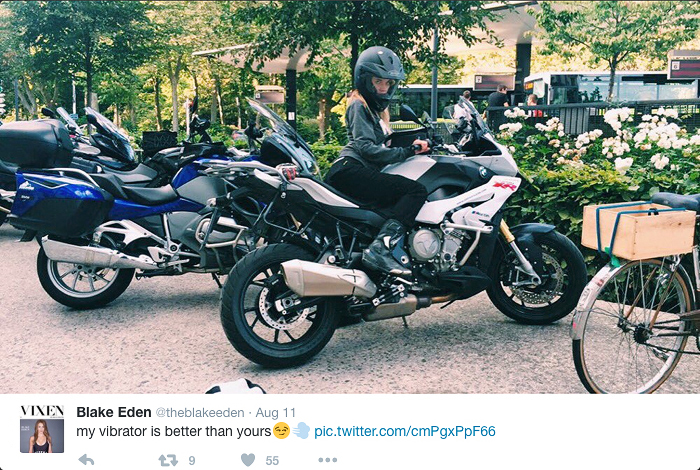 Blake Eden is from Phoenix, Arizona, and is a huge motorsports enthusiast. She grew up working in her father's business of buying, repairing and selling cars and motorcyles. Having motorcycles parked in the house was just part of the norm for her, and she was always rebuilding car motors with her dad. Blake rode a KTM dirt bike in the desert, and got heavily into building up and driving cars in Drifting competition. But after destroying her Nissan drift car into a wall, and totaling her new 2012 BMW M3 while drifting on the street, She tell us she's taking a break from owning cars for a while to "settle down". We hope she doesn't settle down too much, but will take her driving passion to the track where the concequences aren't as serious or expensive.

Blake moved to Los Angeles just a year ago to get into glamour and fashion modeling. One of her biggest credits include Penthouse magazine cover Pet and centerfold for March 2016.

The girls' exciting and busy month of FastDates.com Calendar shoots begin with a drive from Los Angeles up the California Coast on Highway 1 to Montery California for the 2016 Laguna Seca USA World SBK & AMA Superbike round July 8-10th to shoot the Fast Dates World Superbike Calendar and serve as official SBK Podium and Gird Girls at Mazda Raceway Laguna Seca.
Following the Laguna Seca Superbike weekend, Alissa and Blake will returned to Los Angeles to stay at the Fast Dates Calendar Mansion and Studio and enjoy the sights and shoot with Jim for the Garage Girl Calendar. Then on the weekend of July 23-24th they appeared at the Saturay July 23rd LA Calendar Motorcycle Show at the Sagebrush Cantina in Calabasas to help Jim premier the new 2017 FastDates.com Calendars and help with the Calendar Bike Building Championship awards. Then the following day Sunday the 24th, the Kittens were at Jim's home and studio to shoot with all the the top custom motorcycles from the Show for the next 2018 Iron & Lace Custom Motorcycle Calendars, and host a house party and concert with the winning bike builders and Show staff. Tickets for the annual Bike Show and the Private mansion House Party are available on the Calendar Show web page here - http://www.FastDates.com/BIKESHOW.HTM

---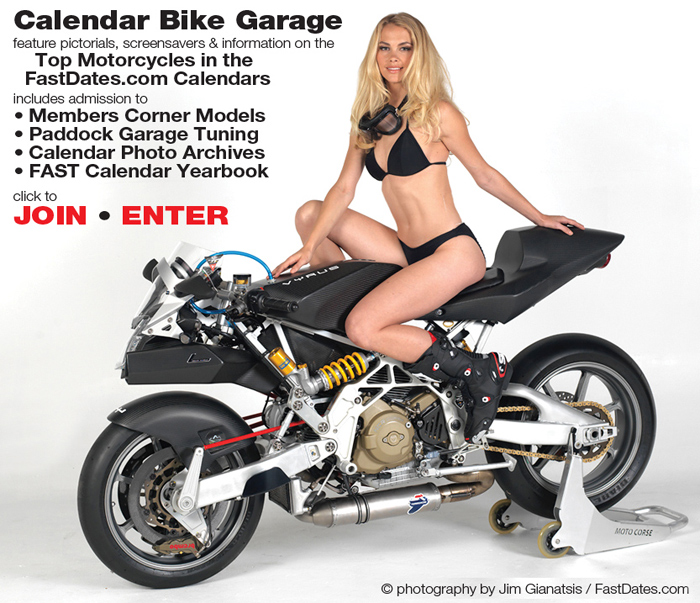 This Month in the Calendar Bike Garage... The World's Coolest Naked Ducati!
Beauitful FastDates.com Calendar Kitten Sara takes us for a ride on the world's most exotic and expensive Ducati streetbike
ever - a $110,000 Vyrus NCR 983 Superleggera in the Calendar Bike Garage and in Members Corner.
Now in the FastDates.com Calendar Bike Garage!
David Beckham's Amazon Triumph Scrambler build by legenday Calendar Bike Builder Rickard Pollock / Mule Motorcycles, photographed with Calendar Kitten and Penthouse Pet Aleska in BIG full screen saver size photos.
David Beckham stars in OUTLAWS - a Belstaff Triumph Movie Short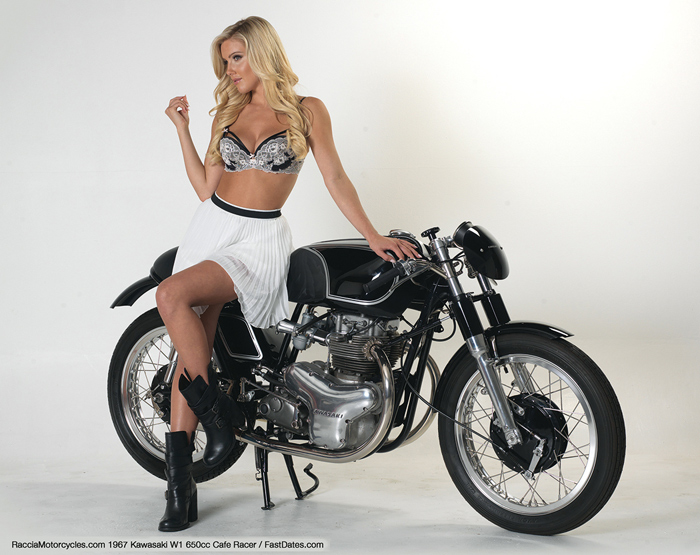 Now in the FastDates.com Calendar Bike Garage!
Mike LaFountain's 2016 LA Calendar Bike Show class winning 1967 Kawasaki W1 Cafe Racer with SBK Fast Dates World Superbike Calendar Kitten Jessica Harbour in Big Screen Saver Size Pictures and bike details - http://www.FastDates.com/IronLaceGarage.HTM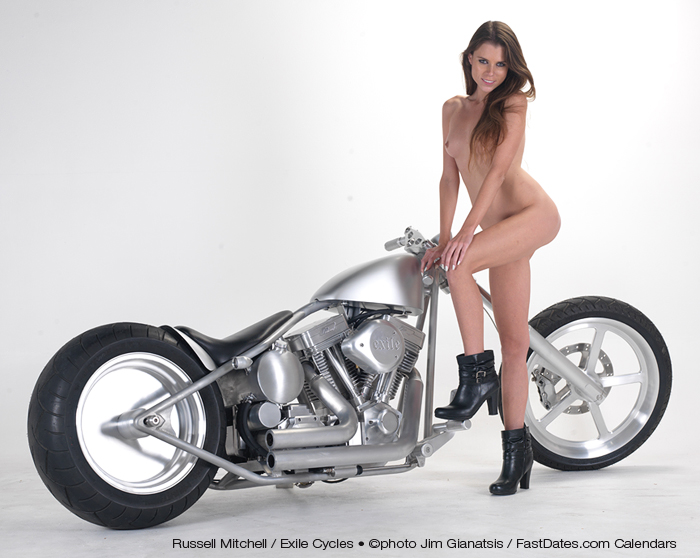 Calendar Kitten Aleksais also pictured here with a wild Russell Mitchell / Exile Cycles Silver Cusom is featured under the name "Jessica" on the popular adult website X-Art.com where she likes to pleasure herself a lot, have some really hot girl-girl encounters, and love making her boyfriend Alex. You won't want to miss any of this.
CLICK HERE to Visit Jessica on X-Art.com
Watch a Fast Dates.com Calendar Video Shoot with Jessica & Kelsey!

Go behind the scenes at the glamorous Gianatsis Design Studios with beautiful new Calendar Kittens Jessica Harbour and Kelsey as they shoot for the FastDates.com Motorcycle PinUp Calendars with photographer Jim Gianatsis. Order the Calendars!

You'll find all the pages of the Garage Girls Calendars in larger Screen Saver Size
our Calendar Kittes in revealing pictorials in MEMBERS CORNER
---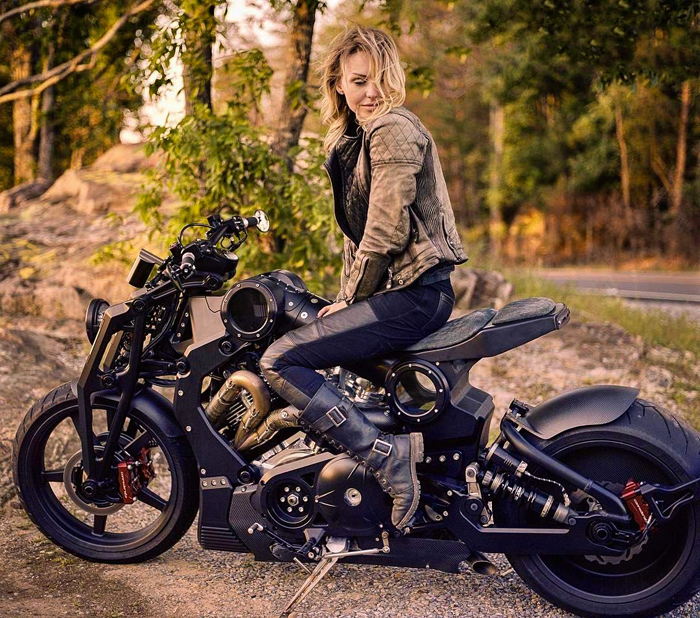 Model Letecia Cline and the latest and last 5th Generation V-Twin Confederate.

The End of Confedeate Motorcycles - The ReBirth of Curtis

November 20, 2017 BIRMINGHAM, Ala - In 1903, Glenn H. Curtiss invented the venerable American V-twin 4-stroke motorcycle engine which has been the basis of the American motorcycle industry ever since. 90 years later lTE Confederate Motors, Inc. was founed by Matthew Chambers and invested 20-plus years perfecting his invention. Five generations of patented architecture were created.

Confederate Motorcles have been featured in the FastDates.com Iron & Lace Calendars over the last 20 years, as their most inovative and premier limited production motorcles in the world. If you wanted and could afford the best American V-twin, Confederate was the one and only choice. With the beginning of 2018, Confederate Motorcycles with thire iconic high performance billet machined V-twin internal combustion engines will be no more. Instead the company is being reborn with all new motorcycle designs with an all-new power source....

Seven years ago, in its twentieth year, Confederate began research and development of their fifth generation architecture.
"We knew we were at a turning point; we had maxed out Glenn's invention. It was time to apply our years of design experience and earned wisdom with the best innovation and technology, just like Mr. Curtiss would do, were he leading us today. We branded the project Curtiss. Over these past seven years, the view from standing on the shoulders of this giant shifted our business model and strategy on its axis. Curtiss illuminated, informed, and clarified a new mission; sustainable, scalable, ageless, timeless, fun motorcycle relevance".

Curtiss will deploy a modular architectural system, the design upon which numerous patents have been filed, as the optimal foundation for an all-new Twin-Engine powertrain supplied by the new world-leader in motorcycle torque production, Zero. The all-new powertrain packages in a classical proportion, lower, narrower, and with superior weight management than any other. The geometry and ergonomics are classic as well, empowering the rider with effortless control, speed, handling, and comfort. Curtiss suspension is all-new and state-of-the-art. A breakthrough in transparency, accuracy, and quality of information between the tarmac and the Curtiss rider is promised. Whole new levels of safety have been designed into Curtiss, which has the goal of being the world leader in this key aspect.

A full range of machines to fit every pocketbook is in development, with the unveiling of the first model, the all-new Hercules, scheduled for May 5, 2018. Curtiss will be cool and sophisticated urban mobility.

It is with the utmost confidence that we announce our name change, effective January 8, 2018, from Confederate Motors, Inc., unto Curtiss Motorcycle Co., Inc. The first all-new Curtiss motorcycles in over 106 years are coming soon.
Curtiss; Never Look Back!

Contact: Confederate Motors, Inc.
Jordan Cornille, 1-205-324-9888
pr@curtissmotors.com

The Confederate Story - curtesy Wikipedia
Confederate Motors is an American manufacturer of exotic street motorcycles in Birmingham, Alabama. It was founded in 1991 by trial lawyer H. Matthew Chambers, as an initiative seeking "enlightened design through true American inspiration." In 2017 the company announced plans to switch to electric motorcycles made in California by Zero Motorcycles, and rename itself to Curtiss Motorcycles, due to the business impact of association with the US Confederacy .
The company opened in Baton Rouge, Louisiana in 1991, and after a brief move to San Francisco, California, the next year, moved to a prototype shop in New Orleans, Louisiana, in 1993. The company's first motorcycle rolled off the production line there on November 11, 1994. Over 500 first generation Hellcat models were built from 1996 to 2001.[2] After going bankrupt in 2001, Confederate recovered in 2003 and produced a second generation of Hellcats, about 75 total.[2] After the severe factory damage in August 2005 by Hurricane Katrina interrupted production, Confederate moved its corporate headquarters and assembly operations to a building in downtown Birmingham, Alabama.
Production resumed after the reorganization and move in early 2006, with an announcement in May of their $5 million expansion plans for production of a third, more affordable, model. Confederate Motor Co. sold 37 bikes in 2008 and anticipated the sale of 30 bikes in 2009, due to the recession. Even though Confederate's buyers are too rich to be affected by the economic downturn, company founder Matt Chambers said during the recession, "it was very fashionable to not be buying a high-end luxury product like ours."

In 2013 the company moved to a larger facility in Birmingham.[4] Confederate produced 130 G3 Hellcats. Confederate has launched a G2 Fighter and has plans to launch a G2 Wraith. At the August 2017 Quail Motorcycle Gathering, Confederate's President Matt Chambers said the Confederate name would be changed to Curtiss, and the company would switch to electric motorcycles in partnership with established electric bike maker Zero Motorcycles. The new model is to be a high-powered cruiser called the Hercules, made in Zero's California facility, not the Birmingham, Alabama Confederate Motorcycle factory. Chambers said that the Civil War connotations of the Confederate name had cost the company business, and they "missed out on branding opportunities" because of it. 

The Curtiss Motorcycles name is a reference to aviation and motorcycle pioneer Glenn Curtiss. Chambers had defended the Confederate name and motto, "Art of Rebellion", as recently as June 2017, saying "the rebellion we're talking about is cerebral and spiritual and inside of you", connected with the ideas of Albert Camus or E. E. Cummings, and Southern principles Chambers is proud of, not their "unprincipled application", adding that he is "glad the South lost" the Civil War.[5]
Confederate produced the G1 Hellcat from 1999 - 2001. The G2 Hellcat was produced from 2002 to 2007. The Wraith was produced was 2007 to 2009 and the Fighter from 2009 to 2011. The G3 Hellcat was produced until being sold out in the fourth quarter of 2015. In 2007, the $92,000 B120 Wraith and F131 Hellcat took first and second place respectively in the AMD World Championship of Custom Bike Building show at the Sturgis Motorcycle Rally, in the production manufacturer category.[3] In late 2015, entered production of the G2 P51 Combat Fighter, of which 61 examples will be made, selling for $119,500. Confederate has plans to launch a G2 Wraith and a G3 Hellcat. In August 2017 Confederate announced a limited edition FA-13 Combat Bomber model.
---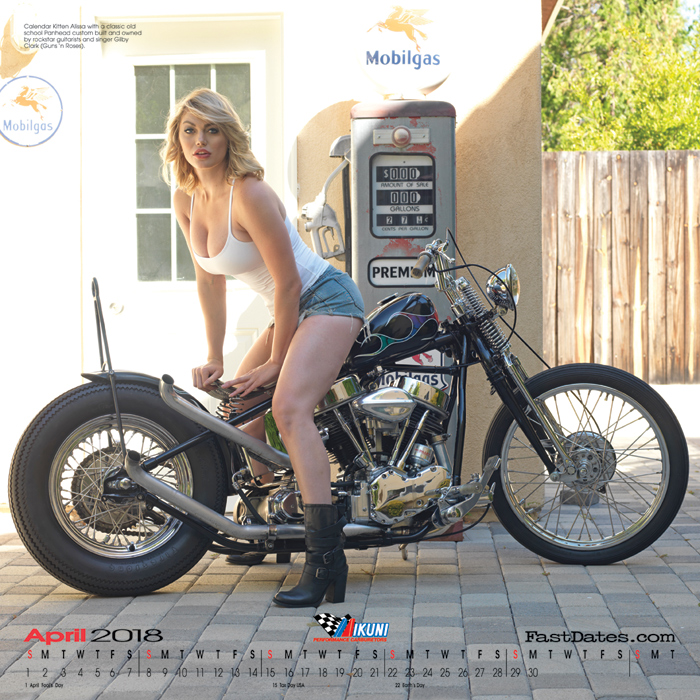 This Month in the Iron & Lace Calendar ...
FastDates.com Calendar Kitten Alisa Bourne with Guns n Roses rock guitarist Gilby Clark's custom panhead.
Order the new Iron & Lace Calendar - Click on the Calendar Picture Above or Here to Order

And in Members Corner...
You can see more of this Bike and our other Calendar Bikes with the beautiful Calendar Kittens
with BIG screensaver size pictures featured in the Calendar Bike Garage.
And see more of our beautiful Calendar Kittens in more revealing photos in Members Corner.
---
There's more! Go to Iron & Lace News Previous Month
Return to Iron & Lace Calendar News Front Page

More Calendar Motorcycle & Calendar Kitten News
Go to: Fast Dates • Garage Girls • Iron & Lace• Meet the Models

Click to see even more of our sexy Fast Dates Calendar Kittens...


Amazon.com Top Brand Motorcycle Apparel & Parts


---
Many of our Calendar Kittens can also be seen on these partner websites...


Click for a Free Met Art Sample Model Gallery Updated Each Day!