NEW! FAST 2018, 2017, 2016, 2015, 2014 Calendar Digital Yearbooks
Go behind the scenes of the FastDates.com Calendar photo shoots at the SBK World Superbike races, the Los Angeles Calendar Motorcycle Show & Concourse d' Elegance, and inside the FastDates.com Studio of famed photographer Jim Gianatsis. Meet the official SBK World Superbike Calendar Kittens who also serve as the official SBK podium and grid girls, the top factory riders of World Superbike, and America's top custom bike builders. You'll find detailed editorial photo features on the Calendars' top Custom and Race bikes, and on the Calendar Kittens.
Did we forget anything? - Oh yes! The new FAST 2015 Calendar Yearbook Digital Edition features in high resolution every page in the new 2015 Fast Dates World Superbike, Iron & Lace Custom Bikes, Garage Girls and Cafe Racers Calendars featuring the world's top race and custom bikes and the beautiful Calendar Kittens! Now in Members Corner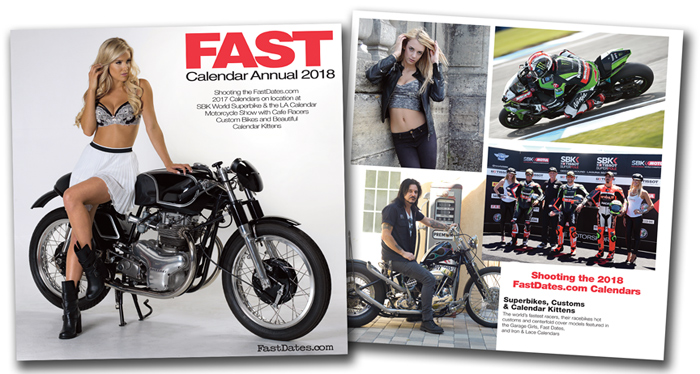 Go behind the scenes in the new FAST Calendar Digital Yearbooks available for viewing now in
FastDates.com Members Corner
---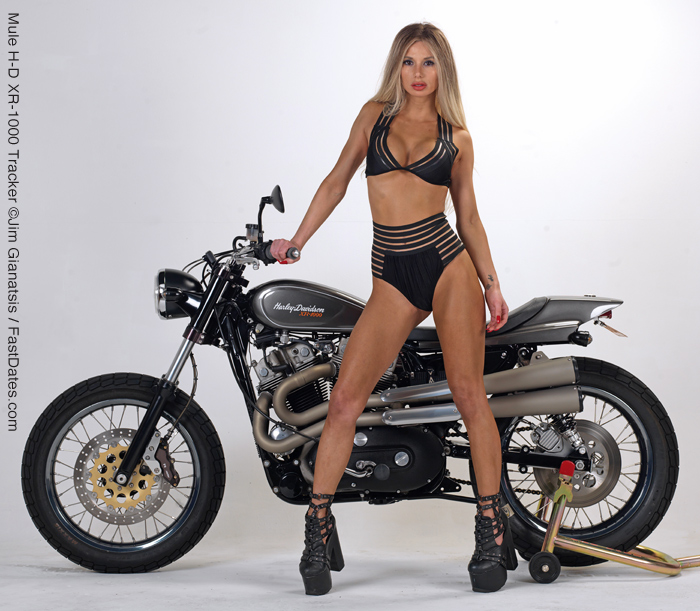 Richard Pollock and Sara Balint 2019 Calendar shoot
Los Angeles, CA , May 2nd, 2019 - Legendary FastDates.com Calendar Bike Builder Richard Pollock of Mule Motorcycsles.com brougth two of his newest custom Street Trackers to the FastDates.com photo studio this week for Jim Gianatsis to shoot for the Websire and Calendars. Richard's two newest bikes included thisbautil Harley_Davidson XR-1000 custom, and a cool Yamaha SR500 single, both customized in Pollock's Streetmaster style. The Calendar Kitten wasagain beautiul Sara Balint who was first featured in the 2012 Calendars, and who again shot with us last year and for the new 2019 and 2020 Calendars.
This Bike and Sara are Featued in the Calendar Bike Garage
We'll let our readers decide who should model this new Mule Harley-Davidson XR-1000 Street Tracker in the next Iron & Lace Calendar, Richard or Sara?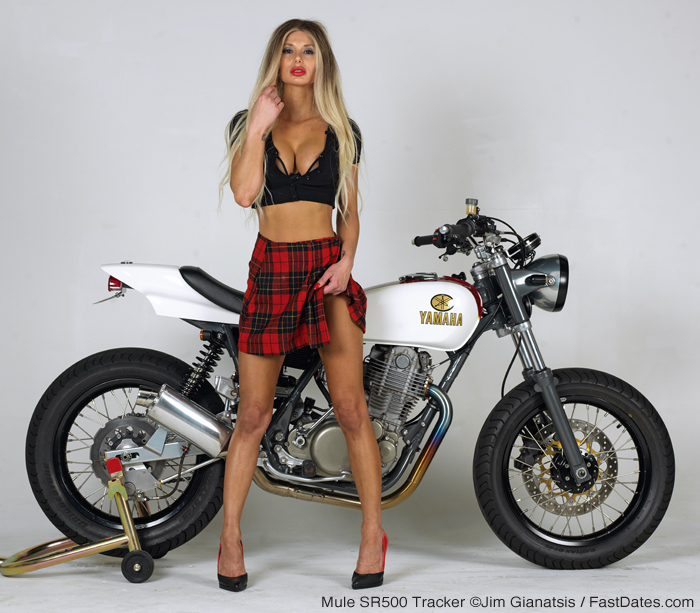 ---
Above, Russell Mitchell (left) and Jesse Rooke (right) partnered for the Calendar Bike Building Seminars at the LA Calendar Motorcycle Shows.
In memory of legendary Iron & Lace Calendar
bike builder Jesse Rooke who died last month....
Phoenix, AZ, April 5th, 2019 - Celebrity Iron & Lace Calendar custom motorcycle builder Jesse Rooke died in a fatal motorcycle accident on April 5th 2019 while riding nearhis home in Phonex' Arizona during Arizona Bike Week
Jesse Rooke was one of the sport's most innovative and creative custom bike builders, and one of my favorites. His bikes were just so clean, simple, modern and yet really inovative with singled side swingarms and his trademark Schwinn bicycle styling. His bikes were more ridable than most exotic customs.

I was excited that Jesse, like many of America's premier cusom bike builders used my LA Calendar Motorcycle Show as the showcase for their the first bikes and the starting point to kick off their careers. And that all of Jesse's best bikes, I got to shoot and were featured in my FastDates.com Calendars & Website and in the Iron & Lace Calendars.
Jesse leaves behind his longtime partner, Ashley Blair, and a beautiful 9-year old daughter named Scarlett who loves to ride motorcycles. He was an Arizona native and had his shop and home in Phoenix. Jesse on Instagram - https://www.instagram.com/rookecustoms/


The Jesse Rooke & Russell Mitchell Biker Build-Off Cafe Racer X-1
Pictured above is the Harley Street Racer that legendary Iron & Lace Calendar Bike Builders Russell Mitchell / Exile Cycles and Jessie Rooke built together on the very popular Biker Build Off TV Series back in 2005. The bike featured a Jesse Rooke frame, painted far too flashy for Russell's conservative basic black bomber look, but I feel it is one of the most tasteful, best looking, and legendary custom bikes of all time. The motor is a Jim's Machine Big Twin fed by a massive Mikuni HSR 46 Carburetor.
The Calendar Kitten is Miss Ireland Gemma Gleeson, who I hired to shoot the Fast Dates Racebike Calendar and served as Miss SBK World Superbike at Brands Hatch that summer of '95 .I invited Gemma to spend the Christmas Holidays with me in Los Angeles at the end of the year, and she was happy to leave the winter cold of Ireland for warm and sunny California. 
This shoot of course, was take the Queen Mary in Long Beach in December and the pictures were used in the 2006 LA Calendar Motorcycle Show advertising campaign and in the 2007 Iron & Lace Calendar. This picture with Gemma hiking up her skirt revealing her sequined bikini bottom has never been see before. 
Above, Russell Mitcellh (left) and Jesse Rooke (right) partnered for the Calendar Bike Building Seminars up at the LA Calendar Motorcycle Show in 2006 and 2007. You can see detailed features of their bikes in the Calendar Bike Garage.
Both Russell Mitchell and Jessie Rooke are among the many legendry custom bike builders who got their start at the LA Calendar Motorcycle Show and in the FastDates.com Calendars where I helped them premier their first ever custom bike builds. You can purchase Past Editions of the FastDates.comCalendars with the world's top custom and race bikes and centerfold models, as well as custom display prints of the calednar pictures for your walls on our website. You can order display prints of the above and other historic Iron & Lace Calendar Photos Here.

God Speed Jesse Rooke, It was a great ride.....
- Jim Gianatsis, Producer / LA Calendar Motorcycle Show and the  FastDates.comCalendars
---


Coverage of the 2019 Outliers Guild Moto Show 
Report & Photography ©Jim Gianatsis / FastDates.com
Complete Report Here
Los Angeles Downtown Arts District, CA - Saturday March 23rd 2019 -The 3nd annual Outlier's Guild Moto Show was again held in the old warehouse district of downtown Los Angeles, now being revitalized by the City as the "Arts District" with upscale Apartments,Restaurants and Art Galleries. It continues to be a well produced event featuring the retro / custom / cafe bike scene, drawing a good turnout of spectators and the nicest turnout of custom built bikes on the West Coast since the heyday of the legendary LA Calendar Motorcycle Show, when the 2008 Economic Recession ended America's big ticket custom bike industry. 
Continued Here...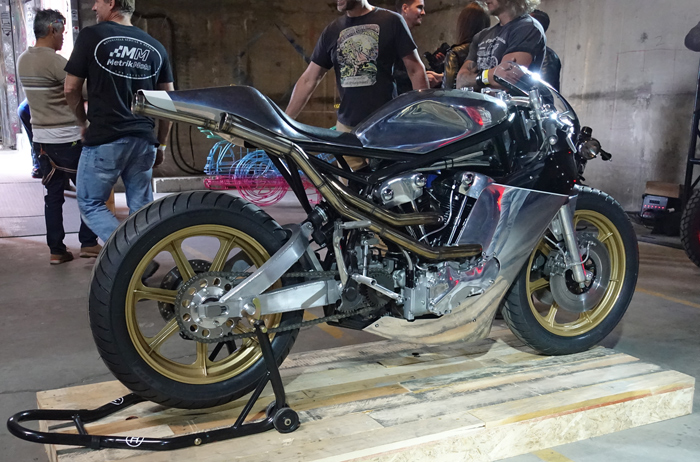 ---
The 2018 LA Calendar Motorcycle Show's Calendar Bike Building Championship continues its now 28-year tradition as the premier outdoor streetbike event in America in partnership with legendary Calendar Bike Builder Russell Mitchell / Exile Cycles's Rider RoundUp at the Ranch at Paramount State Ranch western movie set in Calabasas, California on Sunday October 17th.

Events will feature top Celebrity Custom Bikes & Builders, selected Vendors and Exhibitors, Live Music performances. And the world premier of next year's new 2019 FastDates.com Motorcycle PinUp Calendars featuring the world's top Sport and Custom Motorcycles with the beautiful Calendar Kittens in attendance at the Show. Select Builders and their Bikes will be invited for Monday the 8th after the event to be photographed by producer Jim Gianatsis for the next FastDates.com Calendars.
Calendar Kitten Corle Bunch with Anthony Robinson's 2018 Calendar Bike Building Championship Best of Show Winner

Complete Coverge 2018 Rider RoundUp Calendar Bike Building Championship HERE

---


A look at the changing Custom Motorcycle Market is featured in this extended preview
of the movie Oil In The Blood.
---
Los Angeles, CA , February 23rd 2018 - Legendary FastDates.com Calendar Bike Builder Richard Pollock of Mule Motorcycsles.com brough two of his newest custom builds to the FastDates.com photo studio this week for Jim Gianatsis to shoot for the Website and Calendars. The bikes included this old school Triumph Bonneville, and a newer Harey-Davidson Sportster, both customized in Pollock's Streetmaster style. Our Calendar Kitten was beautiul Sara Balint who was first featured in the 2012 Calendars, and who shot with us this past fall for the 2019 Calendars released in July 2018.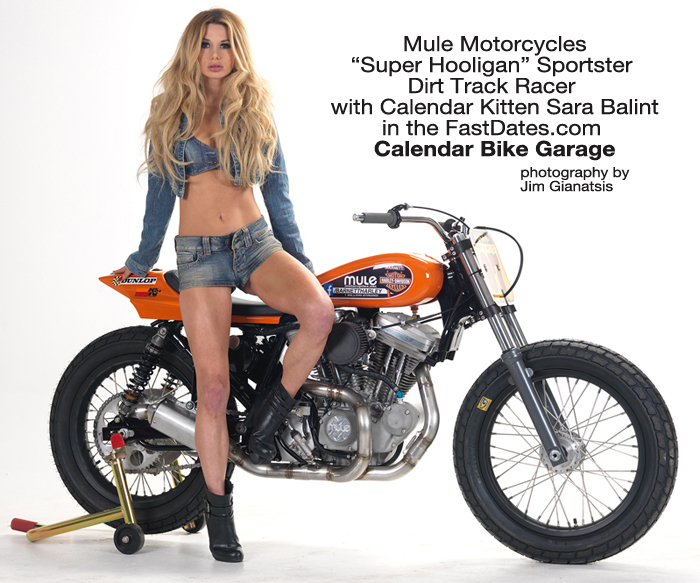 Richard Pollock built the Sportster XR Replica bike with the deleted lower frame section, as a street legal Streetracker. However, after Richaed complte the bike anrhw owner saw it, the owner decided he want to race it in Hooligan Racing. When Hooligan racing promoter Roland Sands saw a picture of the bike he told them the bike would not be eligible to race without a full frame. Plus the owner wanted some additional mod's made to the engine to increase the power, which would not work well if the Sportster engine really was used as a stressed member wwithout a full frame in a racing bike. .

So Richard is preparing a new full frame for the bike to make it eligible for Hooligan Racing, and the current cut down frame will be used in another street bike only project. You can contact Richard and buy it from him for your own project street only Sportster.

Look for photo features of both Richard Pollock Mule bikes with Sara in the Calendar Bike Garage.

Beautiful Sara Balint, builder Richard Pollck and photographer Jim Gianatsis having fun in the studio!
Biker Girl Leticia Cline
A wonderful feature and motorcycle industry perspective from Biker Girl and Model Leticia Cline in this Italian Online Digital Magazine called Super Special. Click on thecover link to download the digital issue to read and enjoy.
Greateful for the English Version. http://www.superspecialmag.com
---
Calendar Kitten Corle and Max Hazam's Show Winner! See complete detaisl of this radical custom cafe racer with full size screensavers pictures in the Calendar Bike Garage.

Max Hazan's Supercharged Husqvarna Replica Board Track Racer
Takes Best of Show at the October 15th Rider RoundUp at the Ranch

Report and Photos by Jim Gianatsis • Click on any Picture for Hi-Resolution
Paramount Movie Ranch State Park, Agoura, CA, October 15th, 2017 - Our Calendar Bike Building Championship joined the Rider RoundUp at the Ranch produced by celebrity Calendar Bike builder Russell Mitchell and wife Rachel / Exile Cycles at the Paramount Western Movie Ranch in Agoura, CA, just down the road from the legendary Southern California biker hangout The Rock Store on Mulholland Highway. It was an exciting day of beautiful Custom Motorcycles, Activities, great tasting Food Truck, BBQ and Craft Beer, Venders, Manufacturers and Live Music. The Rider Round Up at the Ranch was the second year celebration of Exile Cycles' 20th Anniversary Party held at Paramount Ranch the year before, now continuing on an annual basis. And again it was a benefit to raise money to Fight Leukemia by auctioning off products and services, together with money donated by the Vendors and Sponsors, this year raising $7000 for the Cause.
Taking Best of Show at the 2017 Rider RoundUp Calendar Bike Building Championship was Max Hazan's hand crafted Supercharged KTM Single Cafe Racer. Max, who has a storefront custom bike shop in Venice Beach, CA, built this latest customer consigned bike bike from scratch around a 420cc KTM / Husqvarna 4-stroke single cylinder dirt bike engine. Max fabricated a belt drive system off the engine's crankshaft to run a mini dual rotor Supercharger fed by a Keihin FCR39 Racing Carburetor.
The KTM single's steel tube rigid frame chases hosing the water-cooled motor was built around 26-inch classic car tires with
custom built spoked wheels. The tiny rear disc brake located behind the rider's right foot, operates a shaft through the frame
with a fixed primary sprocket on the other side, engaged with the drive chain, to slow the rear wheel down when the foot bake
is pressed. Very original! The hand made springer front forks with hydraulic damping and a front headlight that turns with the
steering stem is also unique. The bike is finished off with a beautiful had made aluminum fuel tank, handlebars and many other components. It was unanimous by anyone who saw it, that Max's Supercharged KTM Board Track Racer Replica was the Show
winner, one of the Calendar Bike Building Championship's best ever builds in its 26 year history.
Coverage 2017 Calendar Bike Builder Party Here

Coverge 2017 Rider RoundUp Calendar Bike Building Championhip Here
---
New Calendar Kitten Art by Amy Mathews

For the last five years were been using as our FastDates.com logo art a really beautiful Calendar Kitten pinUp drawing by artisit Amy Mathews of Carton Pink. One of our newest Calendar Kittens is adult str Riley Annd, and we thought it would be really exciting to use Rily as the model for a more motorcle themed Calendar Kitten artwork. So during a recent photo shoot with Riley, photogrspher Jim Gianatsis posed Riley in a skimpy motorcle garb for upcoming new FastDates.com Calendar Kitten artwork by Amy Mathews.
Many of our Calendar Kittens can also be seen on these partner websites...